Community helps restore hard-hit cemetery
Even inmates from a nearby prison pitched in to help clean rubble from Hubbel Hill
One year ago: Littered with barn debris and downed trees, Hubbel Hill Cemetery lay in shambles. Proving that nothing was safe from Mother Nature's iron hand, final resting places were ravaged.
Tipping tombstones and tossing urns, in a long blink of the eye the swirling wind lay waste to decades of serenity.
Hubbel Hill's beautiful landscaping was devastated as trees were broken, split and felled, taking out even more headstones.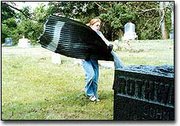 But every cloud has a silver lining, and the outstretched hand the Tonganoxie community extended in charity even reached its members on the other side of the grave.
And new life was brought to where there had only been old death. The morning after, help was on the way.
"I'm in cemeteries all the time," said Phil Weide, who builds and sells burial vaults, among other things, as part of his concrete business. "So right after the storm, that was the first place I drove out to."
The Tonganoxie resident then went about setting up what stones he could.
But there wasn't much he could do by hand. According to Hubbel Hill Board Member Lloyd DeHoff, the storm downed more than 60 stones, most of which were too heavy to lift. Weide agreed.
"That storm took stones that were thousands of pounds and tossed them around," Weide said.
So he called Mitch Young, of Lawrence's Oak Hill Cemetery, to see what help he could provide.
The next day, Weide, Young and two of Young's employees visited Hubbel Hill this time with a backhoe.
The four men spent that day finishing with machinery what Weide had begun with his back the day before.
Today, with the exception of stones damaged beyond repair, everything is pretty much back to like it was.
But tipping stones was just the beginning of the reconstruction: The twister had scattered debris everywhere, leaving a huge mess to clean up.
This time the helping hand reached from outside of everyday society.
Four days after the storm, a busload of more than 30 Leavenworth inmates arrived at Hubbel Hill.
Two days later, the cemetery was restored.
"I don't know what we'd have done if it wouldn't have been for their two days of hard labor, but I guess they were glad to be out and working," DeHoff said. "It's unfortunate they are where they are, but they did a good thing for the community."
The inmates hauled out two large truckloads of debris to the Leavenworth Country Landfill, and hand-raked all seven and a half cemetery acres.
Thanks to the community's help, the cemetery board has been able to complete the cleanup within its normal operating budget.
Since plots and gravestones in Hubbel Hill Cemetery are the deceased person's family property, any storm damages are the families' responsibilities.
This helped to keep the cemetery's monetary loss at a minimum.
Unfortunately, DeHoff said, many buried at the cemetery have no relatives in the area or are long forgotten.
"A lot of the people in the cemetery have passed away a long time ago and have no family around," DeHoff said.
He said cemetery workers had done the best they could to restore those stones to their original position in the cemetery.
Cemetery reconstruction was guided by board records that show who is buried where.
These records are almost as old as the cemetery they go back more than century.
Maintenance personnel are still busy cleaning up the last of the mess from last May's tornado, but things are more peaceful at Tonganoxie's Hubbel Hill Cemetery.