Fairgrounds rebuilds during past year
Thanks to efforts of many volunteers, 74th annual fair goes on last August
A year later, repairs from last May's tornado are just about complete at the Leavenworth County Fairgrounds.
"We are working on the last building that needs to be worked on," said David Todd, Leavenworth County Fair Board president. "It's almost done."
About 75 percent of the task to whip the fairgrounds back into shape was complete in the three months following the tornado. After all, the Leavenworth County Fair Board did have a fair to put on. There wasn't a doubt Todd's mind that the Leavenworth County Fair would be held last August. He was a little shocked when he headed out to the fairgrounds to start assessing the damage, though.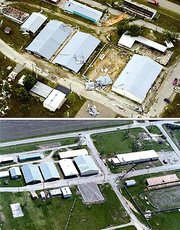 "After the initial first couple of hours looking at the devastation, I and a couple other board members started trying to figure out what we had to do to put the fair on," Todd said. "We decided early on not to postpone or cancel. We were going to have it one way or another. We only had 88 days. So, it was quite an accomplishment for us."
The Saturday following the tornado, about 75 volunteers and equipment were on-site to start removing the twisted metal and other debris slung across the fairgrounds.
"It was really amazing to see how many people turned up," Todd said.
Volunteers came from all over the county to assist.
"We had a majority of the work done before the fair," Todd said.
The most extensive part of the damage was to buildings at the fairgrounds.
"The real key was that we got a very good contractor who came in right away and jumped on it," Todd said.
The contractor was Bowden Contracting of Kansas City, Kan.
The total damage incurred was about $375,000. Insurance covered part of that. The fair board also received a $25,000 grant from the Kemper foundation and a $75,000 grant from the state. Various other individuals have contributed money.
"A lot of people have made donations and what-not," Todd said. "We are still getting some."
At the last fair board meeting, Todd said the board received a check for about $1,000 from a group that sold videos of the storm coverage. The board has also received $2,000 from a group that sold cookbooks.
"We've used all the resources we can get our hands on," Todd said. "We're getting down to the last piece of the puzzle."
However that last piece is a crucial one, the electrical infrastructure, which will cost between $20,000 and $30,000, Todd said. Included in the electrical repairs will be the rodeo arena lights, which are now temporary ones. Various other areas will be upgraded, too.
"In one sense, the storm did us a favor," Todd said. "We knew that the electrical infrastructure needed some work. We had started the plans to upgrade certain areas each year. We were only in the second year of the plan."