Field event medals give boys jump start
In its final warm up before Thursday's Kaw Valley League meet, Tonganoxie High School's boys track team demolished the competition last week at the Tonganoxie Invitational, beating second-place team by 57 points.
The league meet will be in Tonganoxie.
In last week's meet, Atchison was the only other team to finish within 100 points of the Chieftains.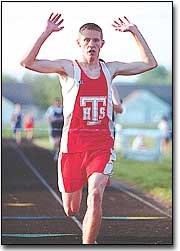 "I was real pleased. I think we competed well," said Coach Phil Williams. "I think we ran maybe not our best times, but it was a good meet for us."
The team got off to a good start by grabbing 10 of the possible 21 field event medals, including four of the seven possible golds.
Though the throwers and pole vaulters turned in their typical strong performances, Williams said he was particularly happy with his jumpers' performances.
Ryan Hatfield took first in the triple jump and third in the long jump.
Joey Holek took first in long jump and fifth in the triple jump. Jacob Walker took fourth in the event.
Shane Howard, who took second in the high and intermediate hurdles, also took the silver in the high jump.
"I thought all the jumpers did extremely well," Williams said. "Shane Howard kept up with a real good hurdler from Atchison."
Tonganoxie runners did hold their own at the meet, capturing several high finishes, including a double-gold performance by Kyle Norris. He won the 1,600 meters in 4:51.00 and the 800 in 2:08.06.
But the Tonganoxie Invitational wasn't the only action of the week for five boys team members.
Pole vaulter Dustin Schultz and the 4x800-meter relay team of Jacob Hoffhines, Norris, Matt Needham and Tony Aligo traveled to Shawnee Mission North on Friday.
It was a big meet with tough competition.
Tonganoxie held its own, with Schultz taking fourth in the pole vault with a vault of 15 feet, and the relay team also finished fourth, just two seconds out of third at 13 feet.
The team ran 19 seconds faster than it has all season, which Williams says is good news with the post-season just around the corner.
The team has been busy preparing for Thursday's league meet, which starts at 4 p.m. in Tonganoxie.
"We're just trying to get everybody in shape but also rested so they're ready to go full strength for this Thursday."
Pole vaulter Sheldon Trieb sprained his wrist fairly badly over the weekend, Williams said, and he is questionable for the meet.