Tonganoxie Assembly of God Church rebuilds after tornado
The Tonganoxie Assembly of God Church has risen from the rubble, thanks to the work of many volunteers.
The church was all-but destroyed in last May's tornado. Now, it appears the rebuilding project might be complete in July.
"That's a projection," said Waneta Karriker, whose husband, Herman, was pastor at the church when it was struck by the tornado.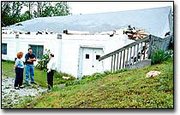 When the May 11 storm hit Tonganoxie, the church's roof and main floor were destroyed. The walls tumbled down and the roof landed on top of them.
However, the lower level of the church the site of Sunday school classrooms essentially was untouched.
An addition was built onto the north side of the church, which now fronts Sixth Street.
Once completed, the 3,400-square-foot main level will include a vestibule, a nursery, an office and the sanctuary. A steeple now rises above the church. The 2,400-square-foot lower level will feature fellowship area and classrooms.
Much of the work in the sanctuary is complete, Karriker said.
"I think we're progressing slowly, but good," she said.
Once the project is complete, district church officials from Wichita will be on hand for a dedication service.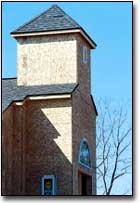 "Anyone can come," Karriker said. "We'll be inviting some people who had input and helped with the rebuilding."
Volunteers continue to trickle to the site. One couple spent six weeks working at the church. Several members of an Overland Park Assembly of God Church have helped on recent weekends. "Even the pastor comes," Karriker said.
And many others have helped.
"I think the Lord just enables them to do more than they normally would be able to do," Karriker said. "They're giving their time on their days off. We're really thankful for their help. The church will get done when it's supposed to be done."