Baseball slides to second
THS

wins in first round of regional playoffs
The Tonganoxie High School Baseball team kept its season alive Monday when it dismantled Perry-Lecompton, 10-4, in the first round of regional playoff action in Tonganoxie.
With the win, the team advanced to the second round of the regional tournament, Tuesday at Hiawatha.
On Monday, the Chieftains got things going early with their bats, scoring five runs in the first two innings.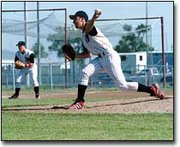 Meanwhile, pitcher Matt Alexander and the Chieftain defense held the Kaws scoreless during that stretch, and the Chieftains led 5-0 after two.
But in the third and fourth innings, the hitting well went dry for Tonganoxie as Perry-Lecompton retired six Tonganoxie hitters in a row.
The Kaws found some offense in those two innings, and pulled the game to 5-3 by the top of the fifth.
But the Kaws were only able to score one more run, as Alexander went the distance and held the team at bay. Tonganoxie scored five more runs in the final two innings.
Alexander threw more than 100 pitches in six innings. He logged seven strikeouts, four walks and one hit-batter. He allowed seven hits, but only two of them were for extra bases.
Kyle Rodell went 2-3 from the plate, scored three runs and stole four bases.
Zach Sanders went a perfect 4-4, drove in four RBIs and crossed home plate three times by himself. He had a hand in seven Tonganoxie scores.
In last week's action, the Chieftains split their Friday doubleheader with Lansing.
In that twin bill, the Chieftains won the f
Tonganoxie started the first game sluggish from the plate, and went scoreless through the first four innings.
Lansing, meanwhile, scored one run in each of those first four innings, including a homerun to lead off in the second.
But Kelly Woelk took the mound in the fourth and shut out Lansing in the fifth, sixth and seventh innings. In taking the win, Woelk threw seven strikeouts and one walk in his four innings.
Meanwhile, Tonganoxie exploded offensively in the fifth, converting three hits into four runs. The Chieftains scored a run in the seventh to win the game, 5-4.
The second game, though, was a different story as the Chieftains struggled to get only six hits. They only converted one of those hits to a run.
But the offense looked good compared to the defense.
The Chieftains gave up four fielding errors in the game and used five different pitchers to try to find an answer for Lansing's suddenly smoking bats.
The team scored 14 runs in five innings.
Lansing won the second game, 14-1.
The team finished the regular season with a 5-15 record, though the team did win five of its last 10 after starting the season losing 10 in a row. irst game with their bats and lost the second game with their gloves.