Colorful contribution
McLouth couple donate aquarium to
KU

department
For a McLouth couple, it was snorkeling trips to the Caribbean that piqued their interest in coral reefs.
During the past six years, Wayne and Kathleen Gillett have invested more than $7,000 in a 55-gallon aquarium, set up in their rural McLouth home. They purchased pieces of coral from area pet stores, augmenting the colorful underwater life.
"There was so much in there," Kathleen Gillett said. "Just about everything was alive."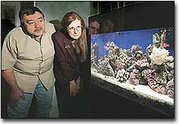 But as the Gilletts started planning for retirement, they realized their daily maintenance of the tank could curtail some of their travel plans. Wayne Gillett is an area plumber, and Kathleen Gillett owns and operates Showcase Pet Grooming in Lawrence.
Each day, the Gilletts would spend at least 15 minutes with the tank, maintaining the tank by changing the water, cleaning the filters and adding food.
"Fifteen minutes a day doesn't sound like very much," Kathleen Gillett said.
But it's a routine that couldn't be skipped. So when the Gilletts planned a trip, their son, Tim, would take over work on the tank.
Because the Gilletts plan to travel more extensively during retirement, they decided they likely couldn't maintain the tank.
So last month, the couple carefully dismantled the tank and transported it to a new home on the University of Kansas campus. Now, the KU environmental studies program office at 517 W. 14th St. in Lawrence is maintaining the Gilletts' aquarium.
Kathleen Gillett said KU seems an obvious choice, for a number of reasons.
"I knew they would take an interest in it and take good care of it and use it as a learning tool," she said. "We spent a lot of time on it. We wanted them to get the benefit of what we had learned and done with it.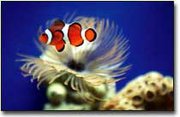 "I also had a couple of students working for me at the time, and I was really aware of KU because of them, and I have a lot of professors as customers at the shop, too."
The couple's interest in coral reefs was piqued several years ago on snorkeling trips off the coast of Florida and in Aruba. Among the animals they added were corals, crabs, snails, micro algae and macro algae, larger mushrooms.
"We started looking at tanks in Florida, after some of our early trips," Kathleen Gillett said. "We didn't know that we were going to do it, but as we learned more about it, we did it."
Although the collection required daily care, it also provided daily entertainment.
"It was sitting right next to the TV, and I'd get bored with television and sit there and watch the tank," Kathleen Gillett said.