Area couple charged in marijuana-growing operation
A rural Tonganoxie couple have been arrested in connection with an elaborate marijuana-growing operation at their home.
Jarrod Sommer, 28, and Jackie Sommer, 26, were taken into custody on Friday and booked into the Leavenworth County Jail on charges of possession of marijuana with intent to sell, cultivation of marijuana, possession of marijuana, not having a drug tax stamp and possession of drug paraphernalia.
A 3-year-old girl and an 8-month-old boy were turned over to the custody of their grandparents, officials said. The Sommers were released from jail Monday night.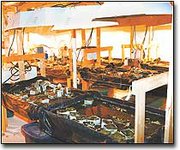 According to sheriff's department Major Dave Zoellner, officers seized 757 plants in various stages of development. The cultivated marijuana, he said, would have a street value of about $385,000. About $13,000 in cash, and a 9 mm and a .40-caliber handgun were recovered.
It is possible that federal prosecutors will take over the case, according to David Melton of the Leavenworth County attorney's office.
For now, the Sommers are set to appear in Leaven-worth County District Court at 11:30 a.m. next Wednesday. They are charged in district court with possession of marijuana with intent to cultivate, possession of drug paraphernalia and having no drug tax stamp.
Officers searched the couple's property in the 18500 block of 246th Street about 9 a.m. Wednesday. Zoellner said the property was protected by a security system that included alarms and cameras.
The marijuana-growing operation was discovered in a basement under a Morton building.
The entrance to the three-room basement was concealed under a rug. One room was used to grow seedlings, a second room was used to grow larger plants up to four feet in height, and a third room was used for drying and bagging, Zoellner said.
"It's just like starting tomatoes or peppers," Zoellner said. "The lights are all on transformers and timers."
In addition, fertilizer and water were found in the basement. Zoellner described the operation as elaborate.
"The facility's clean," he said. "It's probably the most automated operation I've seen. It's all automated. I'm impressed."
Zoellner said the search warrant stemmed from several months' of investigation.
"When you're least expecting it, we show up," he said, standing on the gravel road running past the couple's home. "It makes my day."