Defensive effort not enough
Softball team loses in second round of regional playoffs
In its second-round regional softball game Thursday at Hiawatha, Tonganoxie put up a strong defensive effort, but it wasn't enough to beat Holton, which used a four-run fifth inning to end the Chieftains' season.
Tonganoxie never scored and lost 4-0.
Freshman pitcher Katie Jeannin, who finished with an 11-7 record, had a slightly off-par night on the mound, though she logged four strikeouts and walked nobody.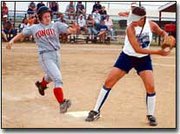 "I thought Katie pitched well," said Coach Mark Mall. "She hit three batters, but came back to finish strong."
But Mall said that he knew going into the game that hitting could well be a problem for the team.
"I felt good about the first four innings, defensively," Mall said. "I knew we'd probably struggle with hitting, but I thought we had a good chance to win that game."
The team struggled from the plate more than usual because of the loss of one of its top offensive players, Andrea Korb, who broke her wrist defending home plate in the team's first-round win over Jefferson West.
The loss of Korb was not a small one. For the season she led the team in on-base percentage, runs batted in, triples and homeruns.
But even with her, the Chieftains had not been guaranteed a win, and after starting the season 0-3, Mall said he was happy with how things had turned out for his ball club. The team finished the season 13-7.
"Overall, I was definitely satisfied with the season," he said. "Batting is the one thing we need to improve by next year."
He said this season's hitting woes had two causes: youth and strong league pitchers.
"Game in and game out, pitching is getting tougher all around the league."
But still, the two teams played evenly except for the four-run burst, which Mall said was common of post-season ball, where only the better teams are still alive.
In the championship game, Topeka-Hayden proved him right by giving Holton a taste of its own medicine. Hayden exploded for six runs in the fourth inning to take the Regional Championship, 6-1.