Former volunteer sentenced to prison
A former volunteer at Tonganoxie United Methodist Church, who pleaded guilty to sexually abusing four youths, has been sentenced to 129 months in prison.
After reading three letters and hearing from two victims and the mother of a third, a Douglas County judge sentenced Dan Petersen. Petersen, whose father is the former minister at the Tonganoxie church, already has served more than four months in the Douglas County Jail.
According to a plea agreement reached between Petersen's attorney and prosecutors, Petersen would have served 91 months in prison.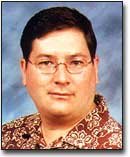 But Judge Michael Malone increased that amount, after hearing from two young men and the mother.
"Gentlemen," the judge said to the two young men, "your comments were unbelievably brave, courageous, insightful and articulate. Thank you for your comments."
The judge told Petersen his actions were manipulative and deceitful.
"These are actions that will have an impact on the victims and their families for a great deal of time," he said.
He encouraged Petersen to seek counseling.
Before sentencing, Petersen said he thought he could be rehabilitated.
"I want to express my sorrow and regret," he said. "I want to get counseling and look within myself to hopefully help someone someday."
In April, Petersen, 33, pled guilty to one count of criminal sodomy, two counts of attempted indecent liberties with a child and one count of attempted aggravated indecent liberties with a child.
Last week, two of Petersen's victims told the judge about Petersen's effect on their lives. They told the judge that Petersen would take them to movies, help buy Mother's Day gifts, and even allow them to smoke, drink alcohol and watch pornography at his Lawrence home.
"He understood my problems, he had the answers to them," one of the victims said. "Dan knew how all the pieces fit together."
The other young man said, "Dan was really cool. He bought me food. He was really nice to me. He told me over and over that he was my brother and he loved me."
The young men told the judge that Petersen worked at gaining control over them. And they urged Malone to sentence Petersen to prison for as long as legally possible, saying they questioned the likelihood of Petersen's rehabilitation.
"I think Dan Petersen fooled the church for a number of years, and Dan Petersen fooled my parents for a number of years, and Dan Petersen fooled us for a number of years," one of the victims said.
The mother of another victim also urged the judge to impose a long sentence, calling Petersen "a classic pedophile."
When he is released from prison, Petersen will be required to register with the Kansas Bureau of Investigation as a sex offender.