Going to state
10 Chieftains qualify for meet in Wichita
For the second year in a row, the Class 4A Regional Track Meet was held in Tonganoxie and the home team held its own again this year, qualifying 10 for this weekend's state championships in Wichita.

Tonganoxie's boys and girls coaches said their teams had given their biggest efforts of the year at the meet.
Boys
At Friday's regional, the boys team qualified four events for state, including three field events and the 4x800-meter relay team
Sheldon Trieb took third in the pole vault, going 13 feet. Though Trieb qualified, Williams said that he'd also hoped Dustin Schultz would make the cut. But his vault of 11 feet, six inches was only good enough for sixth.
Tony Miller took second in the shot put, throwing 45 feet, 9 inches, but didn't qualify in his other strong event: the javelin.
"We were hoping to get someone up there in the javelin," He said. "But they would have had to have their best throws of the season.
But neither Miller nor his brother Andrew, who made the cut last year, had a personal best, and neither broke into the top six.
The third field event qualifier was a pleasant surprise for Williams. Joe Calovich took third in the high jump.
"He had a real good week in practice," Williams said. "Once he gets his form down, he could go 6-2 or 6-3."
He qualified with a jump of 5 feet, 10 inches.
Tonganoxie's fourth and final qualifying event was a traditionally strong Chieftain event: the 4x800-meter relay.
On Friday, team members Kyle Norris, Matt Needham, Jacob Hoffhines and Tony Aligo kept up with winner Baldwin the entire race, but Baldwin had a little more at the end and beat the Chieftains by less than one second.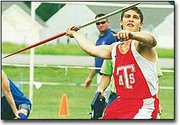 Tonganoxie finished in 8 minutes, 28.7 seconds, its fastest time of the year.
Williams said he was happy with how the season had gone.
"I thought we had a pretty good season," he said. "We had some problems, but overall, it went excellent."
Girls
The girls team posted several standout performances at Friday's meet, qualified four events for state and almost qualifying three others.
Hurdler Aimee Eisman had the biggest day of any Lady Chieftain trackster, taking third place in both hurdle events.
In the 300-meter event, Eisman not only came within two-hundredths of a second of breaking the school record of 49.98, but she also beat Mill Valley hurdler Maike Pieper. Pieper had beaten Eisman out of league gold in the event the week before. Shaw said all girls did well at the meet.
"Erin, Aimee, Katie, Jennifer, Britany. They all had a shot at qualifying for state," Shaw said, "and they all stepped up with their best performances. I can't ask any more than that."
Erin O'Brien qualified in the pole vault, breaking her own school record of 8 feet with her third-place vault of 8 feet, 6 inches.
She nearly qualified in the discus, but her throw of 104 feet, 6 inches was an inch short of third place.
Katie Jeannin qualified for state in the 400 meters by beating Perry-Lecompton's Nikki Black, who had beaten Jeannin in the league meet. Jeannin ran her lap in 63 seconds for the bronze.
Jennifer Reischman almost qualified for state with her fourth-place time of 16.80 in the 300-meter hurdles, but another girl ran the exact same time at a different regional. According to qualifying rules, neither girl gets the state berth.
"She ran a great race," Shaw said. "She beat the girl from Mill Valley who'd beaten her at League the week before, and she knew she would have to do that to qualify."
Britany Jerome also barely missed qualifying. She took fourth in the 300-meter hurdles with a time of 50.50 seconds.
Though her fourth-place finish in the 300-meter hurdles wasn't quite enough for a state berth, Shaw said that he was impressed with how well Jerome had performed at the meet.
The Class 4A State Track Meet is this Friday and Saturday at Cessna Stadium in Wichita.