Seniors encouraged to live life
Crowds of proud relatives and friends packed into bleachers at Tonganoxie's Beatty Field Saturday night to witness one of life's passages.
A total of 106 Tonganoxie High School graduates were awarded diplomas in a ceremony sparkling with the excitement about the years ahead and reflections about school days.
One of the evening's highlights were addresses by the six valedictorians in the Class of 2001. In their messages, the students reminisced and looked ahead.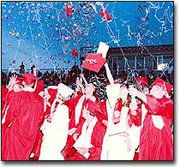 For David Gepner, the message to his classmates was simple: "High school has been the funnest four years of my life, thanks to the Class of 2001."
With that, Gepner headed for his seat among the other graduates.
"Dave, that has been the shortest speech in my time," Principal Mike Bogart said, smiling at the young man.
Another valedictorian, Julia Ferguson, her voice crackling with emotion, told the class to not put off living.
"Life is under no obligation to give us what we expect," she said.
And Kristina Ladas encouraged her classmates to "shine a little sunlight into the lives of others."
Many people have inspired Matt Needham, from friends to teachers to relatives. He encouraged his fellow graduates to be inspirations to others.
"I am challenging each and every graduate here to make a difference in someone's life," he said.
Kyle Rodell entertained graduates and their guests with a quick story about a birthday party in sixth grade, and then turned serious. He offered thanks to the most influential being in his life, God.
"Without his presence in my life, I wouldn't have a reason to succeed," he said.
Darren Welch reminded those gathered for the celebration that the class lost a member last year, when Nathan Castle committed suicide.
"Nathan, although you are missed, you will never be forgotten," Welch said.
The high school principal also recognized students who won scholarships, as well as the school's two salutatorians, Marissa Stephenson and Kyle Wedel.
And then it was time for the big moment, for the walk across the stage. Family and friends, clutching cameras and video cameras, crowded down onto the track, in hopes of capturing the moment. Some folks blew airhorns, while others simply applauded. After Sarah Lynn Zishka received her diploma and the 106 students were proclaimed graduates of Tonganoxie High School, the Class of 2001 erupted with elation. Confetti and Silly String flew into the air over the seniors-turned-graduates.