Fire destroys Basehor cabinet shop
Firefighters earn credit for saving the city's library and a nearby house
A Basehor cabinet-making firm that planned to move within a year to Tonganoxie went up in flames Friday night.
The Cabinet Shop of Basehor was destroyed in the fire, which also threatened the Basehor Community Library and a nearby home.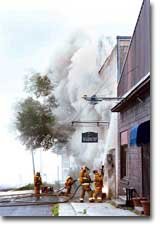 Firefighters from Fairmount Township Fire Department, along with 11 other departments, were credited with containing the fire to the cabinet shop.
"Everything fell into place," said Chuck Magaha, Leaven-worth County Emergency Management director who also is a Fairmount fire volunteer.
"Everybody was assigned to a task, and they stuck to it."
A total of 90 firefighters and 27 pieces of firefighting apparatus, including Fairmont Township's new ladder truck, worked in concert to extinguish the blaze, which was reported about 4:55 p.m. Friday.
According to Allen Goens, Fairmount Township fire chief, the cause of the blaze is undetermined. The cause is under investigation by the state fire marshal's office. A fire investigator who was on the scene on Saturday concentrated on the northwest corner of the building, where electrical panels had been, along with a large sanding machine.
Planning made a difference
Goens said the building was valued at $200,000, while its contents were valued at $500,000.
He credited members of his department and other firefighters along with a great deal of planning with saving the library, which is just inches from the cabinet shop, and the home, about 10 feet away.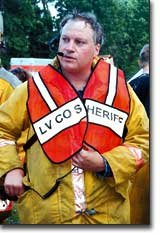 "I've thought about this several times," Goens said. "We pre-planned this years ago, to make sure we take care of this residence and the library. We were fortunate the cabinet shop was a concrete structure. If it were a wood structure, we'd have more than we could handle."
Goens said the fire had spread so quickly that firefighters could not save the building.
"We couldn't enter the building," he said. "I had to get them out. The smoke was too heavy."
Firefighters had to attack the fire through windows and doors because no water could penetrate the tin roof.
"That was about the only way we could work it," Goens said.
Firefighters worked through Friday night, to ensure the blaze did not re-ignite.
Going to come down
Now, the city must determine what to do with the debris and the building shell.
"We're all pretty sure it's going to come down," said Mike Hooper, Basehor's city codes administrator. "It's just a matter of how and how soon."
The demolition will be a delicate operation.
"We've got to protect the library on the north, and on the south, we've got that residence that's 10 feet away that we've got to take care of," Hooper said. "I think those (cabinet shop) walls are about 22 feet tall. It would be nice if it all fell in one piece. It could be a real headache."
Compounding the concern, he said, are heavy storms that were predicted for late Tuesday and today.
Looking at alternatives
Ken Lindsley, a co-owner of the cabinet shop for about three years, said he's not sure what his plans are.
The cabinet shop recently purchased two lots in Urban Hess Business Center in Tonganoxie, where it planned to build a new building within a year, leaving its current building, which was more than 90 years old.
"We have to look at our alternatives," Lindsley said. "I don't know yet what alternatives we have, what we can do."
Only wood products were stored in the cabinet shop, Lindsley said. Workers at another site in Basehor finish cabinets.
Friday night, Carla Kaiser, library director, and Jenne Laytham, assistant director, watched as firefighters poured thousands of gallons of water on the cabinet shop, in hopes of saving the library. About 8 p.m., Kaiser was allowed into the library. She emerged, smiling.
"It's not bad," she said. "It's hazy. But when I ran my hand over stuff, I didn't get a soot feeling, as far as I could tell."
The following day, as a cleaning company worked throughout the library, Kaiser pointed out a few ceiling tiles that had gotten wet and dropped to the carpet. On Monday, 45 volunteers began the task of cleaning the library's collection of about 15,000 books.
"We made a lot of progress," Kaiser said. "The cleaning service came in and instructed us what to do, so we took the books off the shelves, wiped each book and wiped the shelves."
The library opened as usual at 9 a.m. Tuesday.
Ironically, the cabinet shop was making new oak doors for the library. The doors were not at the cabinet shop at the time of the fire; they were at the paint shop, where they were being finished.
Only minor damage
For Myra Noel, the fire could have meant disaster. She was catering a wedding rehearsal dinner in Weston, Mo., when police tracked her down, telling her that Noel's two-story woodframe home was on fire. She expected the worst.
"It was a horrifying trip back," she said. "The closer I got, the more smoke I saw and the more scared I got," she said.
Noel was relieved when firefighters let her inside her home on Friday night.
"Everything inside is fine," she said on Saturday. "I just had a broken water pipe."
It's possible the pipe could have broken during the fire as firefighters increased water pressure to nearby hoses, the fire chief said.
Noel and her 12-year-old son, Phillip, won't return to the house until the water pipe is fixed. But she considers herself lucky thanks to the efforts of firefighters.
"They did a fantastic job," she said. "Thank God those (cabinet shop) walls are as thick as they are and that they're cement."
Mutual aid
Firefighters from these departments responded to Friday night's fire at the Cabinet Shop of Basehor: Fairmount Township, Sherman Township, Stranger Township, Tonganoxie Township, Tonganoxie city, Delaware Township, Kickapoo Township, Alexandria Township, Easton Township, Fort Leavenworth, Bonner Springs and Kansas City, Kan.
Reno Township and Union Township in Jefferson County stood by, covering other firefighters' jurisdictions.
Basehor, Lansing and Tonganoxie police also responded, along with officers from the Leavenworth County sheriff's department.
Several businesses in Basehor, including Casey's and Doc and Brutie's donated food and drinks to firefighters and other rescue workers.
"This is a classic example of everybody pulling together," said Basehor Police Chief Vince Weston.