Flyin' high over Tonganoxie
The flying bug bit Lenny Lawson in Branson, Mo.
"The summer before last I took a ride in a helicopter," Lawson said. "I just thought, gosh this is so neat, and so I thought I ought to have one."
At first, Lawson, who owns Lawson Backhoe, assumed if he could drive a backhoe, he could fly a helicopter.
"I thought I could drive anything on tractor wheels," Lawson said. "And a helicopter was just another machine."
A year later, during the spring of 2000 and after 20 hours with Tim Fulton, a certified flight instructor, it was time to solo.
"My CFI got out of the cockpit," Lawson said. "And the sweat was just pouring out of my ears. I just couldn't make myself pull the collective that's how you gain elevation."
The helicopter would clear the ground by inches.
"And then I'd set it down," Lawson said. "I just couldn't get up enough nerve to do it."
After that, his brother, who had flown fixed-wing planes and helicopters during the Vietnam War, spent a week flying with Lawson, building his confidence.
"By the time he left, I could fly it by myself," Lawson said.
Smooth sailing
As he speaks, Lawson relaxes in the shade of his front porch, leaning back in a lawn chair. The Lawsons live about six miles northwest of Tonganoxie in a house that looks out across rolling hills of Leavenworth County.
Lawson has just returned from work and donned clean clothes. He looks comfortable in his bib overalls, denim shirt and cap. Nearby, his wife, Robbie, fills a long table with a picnic dinner. Soon their children and grandchildren will arrive to celebrate Lawson's 58th birthday. A gust of wind blows paper plates from the table, the porch swing moves in the breeze. Clearly, it's too windy to take the helicopter out of the shed.
But just having it there, knowing that he can fly it eventually, means a lot, Lawson says.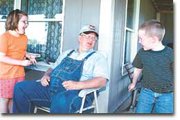 "When you get that thing up to 3,000 rpm and you pull that collective and you leave the ground, it makes your heart go fast," Lawson says.
He's fascinated with the art of flying.
"A person could have a lot of different hobbies and toys and stuff during a lifetime," Lawson said. "But there's just nothing like this thing it's like riding a magic carpet."
Balancing act
It takes coordination to fly a chopper.
"You've got five things to do with two hands and two feet," Lawson said.
There's the cyclic, which changes direction and can take the helicopter sideways, backward or forward. Then there's the anti-torque pedals.
"They keep you from spinning around like an ice cream stick," Lawson said.
And the collective.
"The collective is what changes the pitch on the rotor blades so you can change elevations," Lawson said.
Everything has to work together, or be centered, he said, for it to stay in the air.
"If you can hover the darn thing then you can fly it," Lawson said. "If it's not centered up and down and sideways, it can scare the dickens out of you. My CFI, Tim Fulton, has saved my life a hundred times."
Hitting the books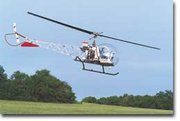 Before taking to the air, Lawson started out at Borders, buying books about helicopters. Then he began studying for his pilot's license.
He admits he's never been much of a reader. But that didn't stop him.
"I'm sure that I have read and digested more material about helicopters, runways maps and flight computers than I ever read of anything in all four years of high school," Lawson said. "But when you like the stuff, it's fun, it's interesting and stuff about the helicopter is about all I read now."
After his initial reading about helicopters gave Lawson an idea of what owning and flying his own would be like, he knew he had to take action.
"I told Robbie, 'We're not doing good on the helicopter project,'" Lawson said. "She said what do you mean and I said, 'We don't have one.'"
And so the Lawsons went shopping.
"We looked at seven helicopters and hired mechanics to check them out," Lawson said.
And then they found the one they wanted, at Pritchett Aircraft in Rolla, Mo.
The helicopter had originally been used in Washington by the Forest Service. It is the same style as those originally built in 1947 for Korean War use, he said. The helicopter was later sold to civilians and refurbished, Lawson said. When he bought it, it was in good shape. The Lawsons added a new interior.
"I think we've got it looking pretty good now," he said.
Take time to fly
Even for short flights, there's preparation.
"You take twenty to thirty minutes before flight," Lawson said. "You check the fuel, grease and look at every little thing and the same thing has to happen all over again when you bring it back."
There's always safety to consider.
"It's not like your car," Lawson said. "You just can't pull off the side of the road if it quits."
Lawson said he'd like to take the helicopter when they go on vacation.
"I'm hoping Robbie will get enough confidence that she'll go with me," he said.
Robbie, who last week flew about 10 miles with her husband piloting, said that's a probability.
"I'm looking forward to taking a trip in it," she said.
Finding their way to a specific destination won't be a problem, Lawson said, because the helicopter is equipped with global positioning equipment.
"It shows you exactly where you are," Lawson said, "It tells you what river you're over, what railroad tracks, who owns them and what towns," Lawson said. The GPS shows his position on a small television screen.
"It will deliver you within 20 feet of where you're going."
Seeing is believing
One of the biggest challenges, early on, Lawson said, was convincing people he was serious about getting a helicopter. And then there was the paperwork.
"The first guys that really give you a wake-up call are the insurance guys," he said.
When he went to get insurance, he had already purchased the helicopter.
"'You already have a helicopter?' they said. I said, 'yeah,' and then there was silence complete silence," Lawson said. "They don't say it, but you know they're wanting to say you're not right in the head. But when you buy a helicopter, you don't have a choice you're four hours from Tonganoxie and you've got to fly it home."