More animals seized from property east of Tonganoxie
For now, the 17 horses, one donkey and 42 small animals seized from a rural Tonganoxie couple's property will remain in the care of an area humane society.
Two weeks ago, a menagerie that included dogs, cats, hedgehogs, birds and spiders, were taken from a house and barn on the property, which is about two miles east of Tonganoxie on the north side of U.S. Highway 24-40.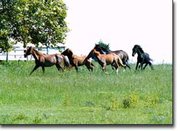 Last week, sheriff's officers and volunteers were back, rounding up the horses and donkey, which were moved in trailers to a site in Johnson County.
"We still are missing three horses," said Sgt. Charles Yates of the Leavenworth County sheriff's office. "Three of them jumped the fence on us into another pasture."
A total of 36 buffalo still remain on the property. It may be some time before they are moved.
"I think a lot of it is going to depend on logistics," Yates said. "It's going to take more than the standard equipment you use for horses and cattle because they're so large. They look pretty intimidating, just from a distance."
It's possible the buffalo would go to a state reserve in western Kansas, according to Lisa Pelofsky of the Humane Society of Greater Kansas City.
"Before they can do anything, they have to check them for some kind of disease that's transferable among buffalo," she said.
Sheriff's officers seized the animals on the property, after receiving complaints centering on concern for the animals' health. According to officials who entered the property two weeks ago, the smell of animal feces and urine, as well as dead animals, was overpowering in the house and barn.
Last week's horse roundup, which took nearly eight hours, was a challenge. Officers enlisted the help of riders on four-wheelers and on horses.
"The first nine horses came right in," Yates said. "The other nine that were left didn't want to cooperate. They were jumping fences by the driveway and hopping at full blast over corral fences like they weren't there."
Pelofsky described the animals as being in "pretty decent shape."
"They were hungry and thin," she said. "Their hooves were kind of overgrown. But they have a lot of potential."
Oak Grove, Mo., resident Vickie Scafe, who volunteered last week to help with the horse roundup, said she's hopeful the animals recover. Scafe's husband, John, and their farrier, Michael Camden, also volunteered their services.
"I want people to realize there are a lot of nice horses that can be rescued and rehabilitated and make a good horse," Vickie Scafe said.
It is possible, though, that not all of the animals will survive.
"They're in the process of evaluating and looking at that particular issue," Pelofsky said. "I think there were a few that needed specialized surgery, and they're trying to figure out whether they can get it for them. There's a limit to the resources available. I'm not sure what we'll do about that."
Yates said that Marc Thiry, who owns the property with his wife, Diane DeFries Thiry, signed documents turning over ownership of the horses and other animals to the Humane Society of Greater Kansas City.
"The official ownership is going to take a court order, which we're in the process of doing," Yates said. "We're hoping the humane society will gain custody of all the animals we take."
Attempts to reach the Thirys have been unsuccessful.
According to Yates, it's possible court charges could be filed in the case.
"What will happen is once we get all the animals off the property and get them medical attention, the investigative reports will be forwarded to the county attorney's office for criminal charges," he said. "How long that will be, I don't know."