THS

grad thrives in water at

KSU
Wildcat senior Breuer glides to spot at collegiate water skiing tourney
Jeff Breuer's hope to meet new people turned into a college athletic career for the former Tonganoxie High School student-athlete.
But the Kansas State University senior had to learn the ropes literally.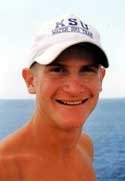 As a freshman, Breuer joined the K-State water skiing team, participating in the jump competition.
Connected to a rope led by a boat traveling at a maximum speed of 32 mph, athletes in Breuer's competition approach a five-foot ramp skiing at speeds up to 70 mph. The athletes gain speed by swinging left and right behind the boat before they jump the ramp.
Skiers get three shots at the event and if they have a balanced landing, the jump counts.
Breuer, who played soccer and basketball at Tonganoxie, changed gears with the skiing team, but found the transition was an easy one. Breuer had never been on water skis before.
"When I joined, the people on the team were really nice," Breuer said. "It made it really easy for new people to join.
"I never jumped before, but that was fairly easy because of that atmosphere and all the leadership at that time."
Breuer, a 1998 THS graduate, has been successful in his new sport. Ranked in the top 15 in the Midwest Collegiate Water Skiing Association the last two years, Breuer had a personal-best of 93 feet.
The effort helped him advance to the ultimate goal for K-State a berth in the National Collegiate Water Skiing Association Championships.
"Our top goal always was to place in the top two in regionals," Breuer said. "I never really imagined winning the whole thing."
K-State has had a club team since 1983, but the NCWSA Championships on Oct. 11-14 near Tempe, Ariz., was K-State's first appearance. Many schools at the championships had varsity programs with scholarship athletes.
The tougher competition was a measuring stick for the Tonganoxie product on a club team.
Competing against about 70 jumpers, he finished with an 86-foot jump, putting him at 39th. Many jumpers from major programs such as Arizona State, Louisiana-Lafayette and California State-Chico had jumps between 120 and 171 feet. Louisiana-Lafayette's Dane Puxty had the winning jump of 171 feet.
Breuer, though, said he was in the same range as many skiers competing at those major programs.
"Some skiers from those schools were jumping around 100 feet," Breuer said. "That's where I consider myself to be. It puts it in perspective a little bit."
The Wildcats finished 10th as a team overall, while Michigan State, in its 16th appearance, was 11th. Arizona State was the host school and won the team title.
Being a club team, Kansas State can't rely on the athletics department for financial aid.
The team receives $3,500 each year from student government. To raise additional money, the team worked a K-State football game with the Pizza Hut Big Cheese Challenge. The team also receives money through sponsorship and donations.
Community National Bank in Tonganoxie is one sponsor of the team. Debbie Breuer, Jeff's mother, is assistant vice president at the bank.
Along with raising funds, the team has to practice.
Slalom and trick-skiing can be practiced at Stockdale Cove in the Tuttle Creek Reservoir near Manhattan, but the team practices jump skiing at Super Lake near Emporia because of calmer conditions. Breuer said the team practices between five and 10 hours a week, but usually can only practice on the weekend near Emporia.
The Wildcats' next competition will be the Ski 'n' Freeze Invitational in March at Stockdale Cove. The team rents hot tubs for the fund-raising event and will compete against Kansas, Iowa State, Iowa and Emporia State.
An agronomy major, Breuer's collegiate career will end in the spring, he said he might compete in an American Water Ski Association tournament after graduation.
"I really don't see myself skiing a whole lot more, but I see myself skiing in one of those in the future," Breuer said.