When the discussion turns to veterans, sculptor Jim Brothers' voice changes.
He speaks more quietly, more reverently, as he says how high his respect is for those men and women who served in the military.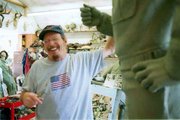 And Brothers' regard for veterans particularly those from World War II shows in the details in the sculptures he creates. It shows in the texture of the soldiers' uniforms and the expressions on the men's bronze faces.
"I'm doing a peace memorial," Brothers said. "This is one of the largest peace memorials in the world."
The memorial commemorating D-Day was dedicated in June in Virginia.
Brothers, whose studio is in northeast Douglas County, also is the sculptor for the national VFW Memorial in Washington, D.C. He still is completing figures for the D-Day memorial and is eager to complete the project.
"We need to get done as soon as we can because this is for the veterans," he said. "It's for all the soldiers."
Because World War II veterans are dying at a rate of nearly 8,000 a week, Brothers said, he feels a sense of urgency.
"I would sure like to have as many around as I could to see it," he said.
To Brothers, those who served in World War II truly are members of the "Greatest Generation." But during dedication ceremonies for the D-Day memorial in June, a veteran disagreed with Brothers when he used the description. Instead, the veteran said his parents' generation was the greatest.
As he related that story recently, Brothers smiled.
"Just the way they look at the world shows they were the greatest generation," he said.
Currently, the artist is creating a 7.5-foot-tall statue of Dwight Eisenhower that will be displayed in Statuary Hall in the U.S. Capitol building in Washington, D.C. And he plans to enter the competition to sculpt another Kansan for the hall, aviatrix Amelia Earhart.
He's also working on a 10-foot Eisenhower that will be installed at the D-Day memorial, as well as several other pieces for the memorial. Because of the terrorists' attacks in September on the United States, Brothers said, fund-raising for the memorial has slowed. However, he's optimistic the project won't be stalled for long.
"We're still going," he said. "They're still sending money not as quickly as we like. But that's not possible. It's still the most incredible memorial in the country."
Brothers, whose works are cast at a southern Leavenworth County foundry, takes his new-found recognition in stride.
During the ceremony in Bedford, Va., to dedicate the D-Day landmark, the artist from Eureka in southeastern Kansas stood on the same platform as the president of the United States. He signed thousands of autographs during his three days in Bedford. That, he said, was overwhelming.
"I've gotten to know some of the most incredible people in this world," Brothers said. "I drank with millionaires before, but now I've had some beers with billionaires. The only difference is their suits don't wrinkle."
Residents of his hometown invited him back for Jim Brothers Appreciation Day on Oct. 24.
"They said more people turned out for that than turned out for the election," Brothers said, clearly pleased.
But just in case Brothers' head begins to grow so large that his ever-present hats don't fit, he said he only needs to remember the conversation he overheard among some third- and fourth-graders in his hometown.
"One of them asked, 'Is he a real artist?' and another one said, 'No, he's just a sculptor,'" Brothers said. "You can't take this too seriously. The bottom could fall out."
For many years, Brothers, a self-described traditionalist and centralist, was a national unknown.
"It's been a long haul," the 60-year-old Brothers said. "There have been many years I haven't had to pay taxes."
But as he worked with agent Paul Dorrell, who owns Leopold Gallery in Kansas City, Mo., Brothers' stock on the national scene began to increase.
"He's good, and he honestly believes in me and has done a world of good," Brothers said.
Then he grinned.
"It's been a love-hate relationship," he said.
The sculptors' client list is impressive. Among the collectors of Brothers' work are director Steven Spielberg, General Electric, Lufthansa Airlines and the late Charles Schulz, creator of "Peanuts."
"I do feel personally very blessed," Brothers said.