"The Sound of Music" is over.
But the fun goes on.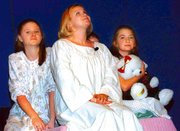 "I think the best part was working with everyone," said Crystal Vaughan, a senior who played Elsa Schraeder. "It was just really fun, a really cool experience."
Vaughan said finding time for everyone to attend play practice was difficult. For instance, her own schedule is tight. She participates in the Chieftain Singers, band, jazz band and works 24 to 30 hours a week as an assistant manager at Sonic.
Steve Harrell, technical director, agreed.
"We worked around a myriad of personal schedules," Harrell said. "Plus the directors' schedules and the use of the building. As you get closer and closer to the day of the production, the other distractions seem to melt away and with the kids, it moves higher and higher on their priority list."
That helps, Harrell said.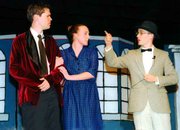 "Things seem to kick into high gear and it all comes together."
Ariel Dowdle, who played Liesl, Captain Von Trapp's eldest daughter, said she and Devin Hughey, who played Rolf, the teen-ager who delivers telegrams and falls in love with Liesl, enjoyed improvising their script.
"We changed a lot of the dialogue," Dowdle said. "We got it more from the movie than from the play we changed it quite a bit, but it was a lot of fun, it was a great experience."
Dowdle, who is a junior, also had to balance play practices with a busy schedule. She works as a checker at B&J Country Mart.
But the time she devoted to the musical was worth it, she said.
"I think everybody should get a chance to do a musical," Dowdle said. "Or to be in the band or to be some part of it, it's great."
Working with Harrell were two other faculty members Joyce Steeby, vocal director, and Charles Van Middlesworth, instrumental director.
Harrell said this was the first time a musical had been produced with the help of Steeby, who is a new teacher in Tonganoxie. Her enthusiasm inspired the students, he said.
"Those kids knew their music, that's for sure," Harrell said, adding, "And Charles is wonderful with the instrumental."
The look of the stage was transformed opening day by members of the art club, who painted the sets.
Members of the cast included:
Maria, Courtney Hoffhines; Sister Berthe, Heather Young; Sister Margaretta, Rachel Fish; Sister Sophia, Denise Gibbens; new postulant, Heather Harrison; Mother Abbess, Nancy Henre; Sisters of Nonnberg Abbey, Erin Holton, Lindsay Davidson and Amanda Bixby.
Captain Von Trapp, Colby Craig; Franz the butler, Jeffery Dennis; Frau Schmidt, the housekeeper, Cara Langston; Liesl, Ariel Dowdle; Freidrich, Joel Nido; Louisa, Heather Melchior; Kurt, Phillip Johnson; Brigitta, Paula Prosser; Marta, Bailey Wetta, and Gretl, Hillary McPherson.
Rolf, Devin Hughey; Elsa Schraeder, Crystal Vaughan; Ursula, Lindsay Davidson; Mix Detweiler, Michael Stephenson; Herr Zeller, Brian Gravatt; Baron Elberfeld, Derek Terry; Baroness Elberfeld, Heather Harrison; Admiral Von Schreiber, Steve Lipe; gentlemen neighbors, John Bretthauer, Chris Smith, Justin Palmer and James Torneden.
Costume designer, Su J. Mai; dressers, Tara Gurss and Spook Holton; lighting technical assistant, Jordan McCarty; stage managers, Devin Hughey and Lynsey Wedd.
Pit band, flute, Sarah Melchior; clarinet, Laura Graveman; tenor saxophone, Joe Smith and Jeremiah Ferris; soprano saxophone, Charles Van Middlesworth; marimba, Jeff Gibbens; percussion, Chris Laurent; piano, Joyce Steeby; tuba, Chester Henre; and bass, Britain Stites.