The drizzle was just enough to obscure house numbers Friday night on Chuck Robinson's Overland Park street. But when we drove by a house that had a life-size cow standing in the living room, we knew we had arrived.
During the week of Dec. 9, the cow, christened "Americow's heroes" in honor of those who helped in the aftermath of the Sept. 11 acts of terrorism, will make its way to New York City. Robinson will present the cow to Mayor Rudy Giuliani, along with a $57,000 check, compliments of Kansas Citians.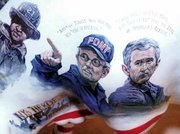 In the meantime, Robinson and his wife, Joyce, and their children, Gabby, Trevor and Tucker, are sharing their home with this patriotic cow, a cow that Robinson said he literally dreamed up.
"I came up with this idea to paint a tribute cow on September 20 at about 2:30 in the morning," Robinson said. Lying awake in the dark, he could envision a cow painted with pictures representative of the tragedy. Pictures he had seen came to mind a little girl sitting on her father's shoulders as she waved an American flag, rescue workers erecting a flagpole at the Twin Towers site, other rescue workers carrying from the smoke and rubble a chaplain killed when the towers collapsed.
"I woke my wife up at 2:30 and that didn't go so hot until I told her about my idea," Robinson said. "And then her wheels started turning too and both of us started coming up with the idea together."
Taking shape
Robinson, who grew up in Tonganoxie and is a 1983 graduate of Tonganoxie High School, was one of the few people who could carry the idea off. Since 1987, he has owned Maverick Charity Auctions. His mentor in the auction business is his father-in-law, George Warren, Tonganoxie, who owns Warren Auction Service and started him in the business when he was in high school.
Each year Robinson runs about 30 charity auctions, including the annual George Brett ALS fund-raiser, various Kansas City Royals and Kansas City Chiefs auctions, and the recent auction of the Cows on Parade.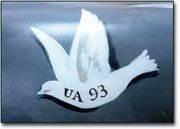 He knew that there were about four unpainted cows left, extras that were left over in case any of the 250 commissioned cows were cracked. He knew that an artist who had painted two of the cows on parade would likely be able to paint an appropriate New York City memorial cow. And he knew that he would have the opportunity and the connections to raise funds to send to New York, with the cow.
And so the pieces began to work together. Of the four cows left, one was in perfect condition. His artist of choice, Ron Raymer, Raytown, said he would do the painting, and it was agreed that the fund-raiser could be held during the earlier scheduled Cows on Parade auction that he was officiating.
A prelude to more
Robinson recalls the auction, held Oct. 5 at Starlight Theatre. The audience had just finished giving more than $460,000 for the Cows on Parade, which would benefit Kansas City Friends of the Zoo, Kemper Museum of Contemporary Art and the American Royal. Now it was time to ask them for more, this time to benefit New York Cit rescue workers. Moreover, because Americow's heroes had not yet been painted, they were asked to bid on a product they hadn't even seen.
"Instead of auctioning it, we had people raise their paddle numbers up for certain increments," Robinson said.
The increments were $1,000, $500 and $250.
"Twenty-nine people raised their paddles for $1,000 apiece," Robinson said. "That was pretty incredible, and then over $50,000 was raised in the blink of an eye."
What it's all about
Ron Raymer said he was flattered when Robinson asked him to paint the "Americow's heroes."
Raymer was the artist for two Cows on Parade cows, "Jazz Moosic," featuring famous jazz musicians, including Charlie Parker, Count Basie and Louie Armstrong; and the "Legendairy Baseball" cow with Buck O'Neill on one side and George Brett on the other.
Robinson's idea, Raymer realized, could be told through the faces of Americans after the tragedy, especially of the rescue workers. Some of the photos from recent magazines could be used as models, he and Robinson agreed.
But the cow itself was daunting.
"The challenging part of it for me was that fact that you've got a humorous context to display it on," Raymer said. "How do you paint on a cow and be serious?"
In early October, during a week of perfect autumn weather while his neighbors were raking leaves or heading to the golf course, Raymer holed up inside his studio and painted. At the end of the week, the cow was complete.
The designs include the words "Liberty" and "Freedom" painted on each of the horns. The lower half of the cow, including the udders, is red and white stripes. And fields of blue with white stars highlight the nose and back end.
Also included are pictures of Mayor Rudolph Giuliani and President George Bush, a rescue worker with a search dog, and other rescue scenes. The cow's back includes a design of a girl wearing holding an American flag in her right land and releasing doves from her left hand. Each dove carries the flight numbers of the planes that crashed on Sept. 11.
An afterthought, Robinson said, is the Statue of Liberty, painted on the cow's lower back. She stands tall amid clouds of thick gray smoke emanating from the unseen rubble of the World Trade Center. Robinson said he didn't hesitate to ask Raymer, even though he was nearly finished with the painting, to figure out a way to include her on the cow.
"I called Ron and said we've got to get the Statue of Liberty on it," Robinson said. "After all, she's what this is all about."