Momentum key for girls' basketball
Tonganoxie girls' basketball team members hope this season will be a continuation of last season.
The Chieftains posted a 10-13 record last year, but finished strong, defeating top-seeded Jefferson West before falling to Hayden in the Sub-state finals.
Nov. 30 at Immac. 7 p.m. Dec. 4 PERRY 7:30 p.m. Dec. 7 at De Soto 6 p.m. Dec. 11 LANSING 7:30 p.m. Dec. 14 BON. SPRINGS 6 p.m. Dec. 18 BASEHOR 7:30 p.m. Jan. 4 SANTA FE TRAIL 6 p.m. Jan. 8 at Piper 7:30 p.m. Jan. 11 at Mill Valley 6 p.m. Jan. 15 at Perry 7:30 p.m. Jan. 21 FSHS Tourn. TBA Jan. 29 at Basehor 7:30 p.m. Feb. 1 DE SOTO 6 p.m. Feb. 5 at Lansing 7:30 p.m. Feb. 12 IMMAC 7:30 p.m. Feb. 15 at Santa Fe Trail 7 p.m. Feb. 19 PIPER 7:30 p.m. Feb. 22 Mill Valley 6 p.m.
Still, that might not be their biggest asset.
"Practice has been absolutely great," THS coach Leslie Foster said. "It's not only carrying over from last year, but from the success of the fall athletic programs."
The volleyball team finished 18-16 and were Sub-state runners-up after finishing 9-24 last season. Cross country finished second in the league as well.
"I think everybody got to know each other," said senior Keri Walker, a member of the volleyball team. "We essentially got all the kinks out.
"Because so many kids participated, we're doing better than before. There's no age separation."
There's also no age gap for the returning starters. Walker, Andrea Korb, Aimee Eisman, Alicia Stauch and Erin Seymour were the starting five as juniors last year. Korb led the team in scoring with 12.8 points per game.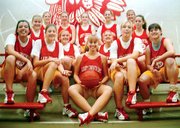 The five seniors are expected to lead the team again this year.
"I think that they're going to help the younger players, just through experiences they had last year," Foster said.
Foster, who has 24 players on her squad this year, said quickness and perseverance were the Chieftains' strong points last season.
"Last year we would never give up," Foster said. "In the Sub-state semifinal game, we were down by 15 at one point and ended up winning."
Tonganoxie, though, lacks size.
The four centers, Eisman, juniors Jennifer Reischman and Christie Menhusen and freshman Addie Heim all stand about 5-foot-8.
"The lack of height concerns me a little," Foster said. "Every team in our league has one player with significant height."
Foster expects three of those teams, Immaculata, Piper and Santa Fe Trail, to compete for the Kaw Valley League title.
The Chieftains open the season against Immaculata at 7 p.m. Friday in Leavenworth.
Walker said her class was undefeated in junior high, except for losses to Immaculata.
Close losses in high school as well will help start the season off against a big rival.
"In all the years I've been playing we've never been so focused," Walker said. "We're ready to put it all out on the court. We're ready to win."