THS

looks to erase last year's skid
Tonganoxie wouldn't mind getting a fresh start.
The boys' basketball team finished last season with a five-game losing streak.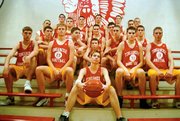 The season ended with a 63-37 opening-round Sub-state loss to Hayden.
This year, the Chieftains will have a different appearance and, they hope, a better finish.
THS has a new head coach in David Walker, who took Mike Webb's place after serving as an assistant for two years. The Chieftains lost four seniors, including Scott Breuer, who led the team with 16.1 points per game.
So will Tonganoxie be able to improve on last year's record?
Walker isn't concerned about last season.
Nov. 30 at Immac. 8:30 p.m. Dec. 4 at Perry 7:30 p.m. Dec. 7 at De Soto 8:30 p.m. Dec. 11 at Lansing 7:30 p.m. Dec. 14 BON. SPRINGS 6 p.m. Dec. 18 at Basehor 7:30 p.m. Jan. 4 SANTA FE TRAIL 7:30 p.m. Jan. 8 PIPER 7:30 p.m. Jan. 11 at Mill Valley 7:30 p.m. Jan. 14 THS TOURN. 7:30 p.m. Jan. 22 PERRY 7:30 p.m. Jan. 29 BASEHOR 7:30 p.m. Feb. 1 DE SOTO 7:30 p.m. Feb. 5 at Lansing 7:30 p.m. Feb. 12 IMMAC 7:30 p.m. Feb. 15 at Santa Fe Trail8:30 p.m. Feb. 19 PIPER 7:30 p.m. Feb. 22 MILL VALLEY 6 p.m.
"We don't really focus on the things of the past," Walker said. "We take everything each day and build on it."
Tonganoxie does return senior Bryan Gurss, who averaged 11 points last year. Walker said he expects teams to target Gurss, which means other players will need to take pressure off him.
Gurss isn't concerned about the situation.
"I think we have a lot of other guys who are going to step up," Gurss said. "After that first game they'll see that and after that I'll play like I usually do."
Senior Matt Alexander, who averaged 7.2 points last year, is also expected to lead the Chieftains, along with fellow senior Thomas Gilner, who added 4.2 points per game last season.
Gurss said offseason conditioning would help this year's squad.
"It always hurts to lose seniors," Gurss said. "We have a pretty good group coming up. We played together this summer and I think we'll play together fine."
Some other players Walker said he expects contributions from are juniors Jon Gripka and Chad Turner, and sophomore Shane Howard and senior Kraig LaRosh.
The team will get its first shot in the season Friday at Leavenworth against Immaculata. Tip-off is set for 8:30 p.m.
Walker said he's ready for the team's first test.
"Immac's always competitive because they have a huge tradition," Walker said. "They're especially tough at their place."