THS

graduate views horror first-hand
Kansans, separated geographically from the Sept. 11 acts of terrorism at the World Trade Center and the Pentagon, can process the tragedies from a distance.
But for Stephen Seely, a 1991 graduate of Tonganoxie High School who works as an actor in New York City, the events took place very close to home. He said that he knew that in order to begin healing, he would have to leave New York City. So on Sept. 20, he arrived at the rural Tonganoxie home of his parents, Harold and Joan Seely.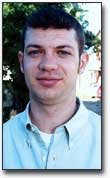 Seely, who lives about 20 blocks from the World Trade Center, said that on the morning of Sept. 11, he was getting ready to go to work when the morning news was interrupted by an announcement that the World Trade Center had been hit. He sat down to watch the television. Within minutes, his mother, Joan Seely, called from Tonganoxie to make sure he was safe.
"While we were talking on the phone, the second tower was hit they said it was an explosion," Seely said.
He took his camera and went to the roof of his six-story apartment building where he had a direct view of the top third of the World Trade Center towers.
"I could see fires, electrical lines sparking, debris falling and later on I could see people," Seely said. "That's what probably got to me the most."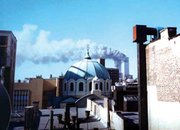 As he watched, the fire kept moving up the building, Seely said.
He saw people jumping from the first tower that was struck, but not from the second tower. Helicopters were flying in the vicinity, he said.
"They had said that if there was ever a fire everyone should go to the roof and they would be picked up by helicopters, but there was so much smoke that the helicopters couldn't land," Seely said.
By that time sirens were sounding and streets were packed with cars and people who were running.
"There were people on the roofs all around where I was and they started screaming," Seely said. "At this point the World Trade Center started to go down."
There was a sound like that of steel and concrete crushing together, he said.
And then an echo.
"I didn't know what was happening then," Seely said. "No one did, it was just like a movie. I don't know how many minutes later, but the other one went. Right after that happened I sat down and I cried like everyone else."
Seely's photographs show the towers standing, smoke billowing out of them like factory chimneys. And later, after the towers collapsed, Seely's photos show his view of the New York City skyline, minus the towers.
He said that later, when he was in the street, he took more photos, photos of people who were covered in dust. But those images, he said, are too painful to look at.
Last Thursday morning, after he had spent a week in Kansas, Seely came to The Mirror to talk.
"I'm going back tomorrow," he said. "I'm ready to go back."
The trip to Kansas had been good for him, he said.
"I definitely needed to come here I don't think you can process what happened when you're still being bombarded with the remnants every single day."
Everywhere in New York City, he said, are reminders of the tragedy. On Sept. 13, two days after the collapse of the World Trade Center towers, Seely and a friend went to the armory to sign up to volunteer to help.
"They already had 2,000 volunteers and there were two lines that went around the building and down the street of families or friends who were registering missing people," Seely said. "Each one was carrying a color copy of a picture of the person missing, and it included what floor they had worked on, and what phone numbers to contact."
They were handing copies of the photos to members of the press.
"Then they would walk over to Union Square and people started building a memorial," Seely said. "All over Union Square they pasted pictures, so it was just a wall of pictures of people and lighted candles."
Walking through the streets of New York City was "surreal," that first week, Seely said.
"There was no one in the streets of New York City, which is unheard of," he said. "Seeing military trucks drive by, ambulances drive by and policemen drive by, everybody wearing gas masks and everything closed down."
Since then, he has felt compelled to watch everything on television that he can, to learn more about the acts of terrorism and about the terrorists.
"I'd like to kill them," he said. "I've never felt that in my life before, but it's those humanistic instincts to protect yourself, of revenge."
He can't get the victims out of his mind, either.
"It was brutal and devastating and all you can think about is those families and the firemen who lost their lives doing their jobs completely innocent people who went to work that day."
A few minutes later, as he picks up a manila folder that contains his pictures of the World Trade Center disaster, Stephen Seely pauses before he can speak again.
"I'm trying to deal with it," he said. "But it is hard I just can't stop watching TV."