THS

in middle of hectic soccer schedule
It's hard to know exactly what a soccer game a day will keep away, but Tonganoxie is having a healthy dose this week.
Starting Monday, the Chieftains began a five-game stretch in seven days.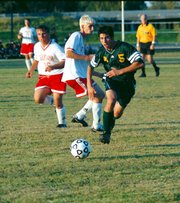 Tonganoxie played a make-up game Monday against Free State that was originally scheduled for Aug. 30, but was called because of lightning.
The team also played Perry-Lecompton on Tuesday and is at Lansing on Thursday.
Saturday's game is at Piper and was originally scheduled for Sept. 18, but was also postponed because of lightning.
Next Monday's home game against Lansing is a make-up game originally scheduled on Sept. 11 when planes crashed into the Pentagon and the World Trade Center in Washington, D.C. and New York City.
Tonganoxie came into the stretch fresh off a 1-0 overtime victory at Basehor-Linwood last Thursday. Senior forward Kevin Colon scored the winning goal in the extra period off senior midfielder Pat Weyer's assist.
But on Monday, Free State struck often, scoring all its goals in the first half two in the last two minutes. The Firebirds won 4-0, but THS coach Harold Pittman was happy with the Chieftains' play against a talented opponent.
"We played well," Pittman said. "They had good players. Our defense was tremendous."
Tonganoxie, now 2-5-1, will continue its hectic schedule with Thursday's game at Lansing. Pittman said it would be important to play well against league opponents. Free State is the only non-league opponent during the stretch.
Junior forward Taylor Sneed and freshman forward/midfielder Travis Schultz will be brought up from junior varsity to help with the increase in games.
Pittman, though, said his team should handle the busy schedule.
"We're in good physical condition," Pittman said. "I think we'll be all right."