Grade school runners compete at
THS

course
Slightly smaller pairs of shoes trudged across the Tonganoxie Cross Country Course last Wednesday when roughly 120 students participated in the Tonganoxie Elementary Cross Country Meet.
Tonganoxie students in grades 3 through 6 competed in the mile-long race.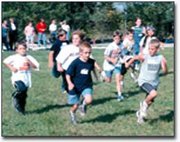 Tonganoxie High School coach Phil Williams has had the event for the younger students for four years, but said it should have started before that.
"I wish I'd done it 20 years ago," Williams said. "It's good PR for the team. It gets kids learning what cross country's about."
The fourth grade had the most participants, tallying 44 runners. The third grade had 30 runners, while 28 fifth-graders and 26 sixth-graders also participated.
Fifth-grader Patrick Gallagher was the overall winner, while Jared Lamb won the sixth-grade division. Also winning their grades were Dylan Anderson (3) and Tanner Newman (4). Top girl runners in each division were Kelsey Wagner (3), Abby Eisman (4), Crissie Jeannin (5) and Ashli Koch (6).
The meet also allowed Williams to scout some future prospects, although it will be a few years down the course before they're running in Tonganoxie uniforms.
"It's a long time before ninth grade," Williams said. "We hope a few go out for cross country."
Williams wasn't the only one in charge of the event. His high school runners also helped with the event.
"The high school kids did a good job of putting it on," Williams said.