Ernie Morrow takes rooftop gardening to new heights.
Morrow, a horticulturist who lives in Tonganoxie, spends his workdays tending what must be the largest rooftop garden in the Kansas City area the roof above the Crown Center parking garage.

Drivers maneuvering their way into the parking garage entrance of the Crown Center shops may notice trees growing overhead. But chances are they might think the garage is cut into a hillside and that the trees are a natural part of the landscape.
But Ernie Morrow knows better.
For 12 years, Morrow has tended three acres of land north of the Crown Center Hotel, of which about 1.5 acres is an artificially created turf installed atop the parking garage.
Here's how it works, he said. The roof of the parking garage is covered with a layer of plastic. Above that are layers of Styrofoam, placed to give natural rounded contours to the landscape. And above the Styrofoam is a sheet of plastic gardening material held in place on the edges with gravel. On top of it all is a six- to eight-inch-thick layer of topsoil.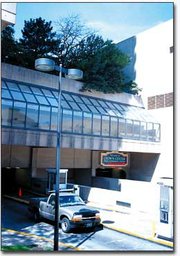 It is in this slight layer of topsoil that trees grow, flowers bloom and grass thrives.
Trees that have roots that spread horizontally, rather than those that have deep tap roots, are selected for the area, Morrow said.
In the midst, still on the roof of the parking garage, is a pond, complete with fountains and walkbridge. And everywhere there are neatly trimmed beds of hostas, impatiens, begonias, decorative grasses and ivy.
This is a private, gated garden created for residents of an upscale apartment building to the west and a luxury condominium to the east. It is rare for anyone except the residents and the staffs to know the garden area exists, Morrow said.
Year-round work
In addition to caring for the outside grounds, Morrow is in charge of caring for 150 houseplants inside the buildings. And during the winter months, he tends to seedlings in a sort of converted greenhouse in the basement of Antioch shopping center.
It is here that Morrow brings clippings of plants he takes before the first freeze.
Each clip is dipped in a rooting solution, he said, and planted on tables under fluorescent lights.
By spring, his plants will be large enough to place outside.
"Last year I bought 700 begonias and raised 500 begonia cuttings," Morrow said. "I was up to my eyeballs in begonias."
He also started 15,000 ivy plants last year.
Last year's winter was brutal on perennials, plants normally not killed by winter weather, Morrow said.
"We went into a hard freeze and stayed in a hard freeze for two or three months, the roots of the perennials were locked in ice and couldn't get water," Morrow said.
A matter of philosophy
Morrow, who works for Curry Investment Company, a business that manages properties for Crown Center, said his is a solitary profession.
A challenging part of his job, he said, is that he works alone about 95 percent of the time.
Yet he is surrounded by the city. Over the sound of wind rustling through the trees and birds singing, there is the constant sound of city noise sirens blaring, horns honking, trains whistling.
The solitude has been good for him, said Morrow, who when younger studied Oriental philosophy and history at Kansas University.
"There's so much silence and so much quiet that my faith has grown tremendously," he said. "I have so much time when I'm out here to think and pray, and my understanding of the world has increased."
Morrow said some might think him to be a simple man:
"One who walks behind a lawnmower and trims the shrubs."
And in some ways he might agree. In fact, he said in his work he merely serves as a catalyst for a greater power.
Morrow points to a wall outside the gated area, a rock wall from which sedum drapes in thick layers.
"All I can do is set up the foundation for the plantings," Morrow said. "I could not plant it in the rock and make it do that, but it will do that on its own if I give it the opportunity."
He wishes sometimes that more people could know more about what he does on the job. None of his friends, he said, really know where he works, or quite what he does. He rarely meets residents of the apartments or condominiums.
"The bitter pill is that there is no public knowledge that this is here," Morrow said. "I spend my life creating this for a few people."
Morrow and his wife, Cathy, who works for Sprint, have lived in Tonganoxie for seven years. They rented a house near Tonganoxie and later bought a house here. At his home, he has put his gardening expertise to work and estimates that when he comes home in the evening, he spends an additional three or four hours working in his yard at home.
"I'm a country boy and my wife was raised in New Orleans and other cities," Morrow said. "I wanted to get back to the country."