Tonganoxie running toward
KVL
Chieftain boys take first again with win at Shawnee Mission Park; girls place third
Two Tonganoxie runners had to deal with something other than competitors, while another had a second straight team-leading race Thursday at Shawnee Mission Park.
Senior Alan Davis had a mild thigh strain from Tuesday's practice, but finished fifth in the Cat Classic, while junior Laura Korb fought stomach flu for a fourth-place finish.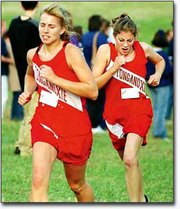 Junior Kyle Norris, though, was the boys' top runner for the second consecutive time after Davis led the team in five meets. Norris also won the meet, finishing in a career-best 16 minutes, 21 seconds out of 54 runners. He took second at Gardner on Sept. 27.
"He really attacked the race," said Phil Williams, THS cross country coach, about Norris. "He and Alan were dueling every 50 yards."
For Norris, Williams said the win has taken some time.
"I have to give Kyle a lot of credit," Williams said. "The last couple of years, he's been content to run behind Alan. A lot of it was good mental attitude."
The Chieftain coach also said Davis' injury was better on Thursday, but mentally it slowed him down.
"It's going to be interesting when both are healthy and full strength," Williams said.
On the girls' side, Korb led the pack for another race despite her illness. She took fourth out of 56 runners with a 13:00 time.
Williams didn't know Korb was sick until after the race.
"I thought she had a good race," Williams said. "There was some good competition."
Also placing and medaling for the girls were seniors Alicia Stauch (13:43) in 12th and Erin Seymour (13:46) in 13th, and sophomore Elizabeth Smith (14:08) in 16th.
The girls took third out of 10 schools at the meet, finishing with 81 points. Seniors Sarah Mages (30th) and Cara Langston (31st) also placed, as did sophomore Amanda Chenoweth (38th).
The boys won their seventh meet with 38 points. The Chieftains have claimed first in every meet except the Rim Rock Invitational near Lawrence.
All seven THS runners placed and medaled. Junior Tony Aligo (17:18) took ninth, while senior Nathan Bailey (17:27) finished 11th. Junior Tommy Powell (17:37) took 12th and senior David Saultz (18:14) placed 22nd. Freshman Levi Huseman (18:25) placed 26th.
The boys will go for their sixth consecutive league title Thursday at the Kaw Valley League Meet. Basehor-Linwood will play host to the invitational at St. Mary's College in Leavenworth. Williams looks for his team to continue the trend.
"We really should win the league this year without too much trouble," Williams said.
The girls have a chance as well, but Williams said the team needed strong personal finishes.
"The league's a lot more balanced for the girls than it is in the boys," he said.