Brother Hiram is the official greeter at Quaker View.
The once-stray Airedale of indeterminate age greets me at the backdoor of the home of Fred Leimkuhler. As I expected, no one answered my knock. Were it not for the three yellow school buses lining the gravel drive, it would have appeared no one was home at Quaker View Farm.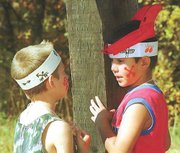 But I knew better. The 100-plus second-grade students from Tonganoxie Elementary School couldn't be far away.
Thinking a big curly-haired dog such as Brother Hiram must surely know the way, I follow the dog, straining to hear the voices of children.
But all that meets my ears is the sweet sound of crisp autumn leaves whispering in the wind of a sunshiny day.
Brother Hiram and I walk by three large trash bags, filled with plastic bags and beverage cans, obviously from a recent picnic lunch. A turquoise porta-potty is prominently situated nearby, as are stacks of blankets neatly folded.
We are ready partners as we briskly walk toward a field of waist-high native grasses and head down a mowed path.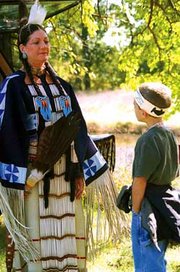 I am in awe of the rural scenery. I stop to photograph a tractor parked in an open-doored barn. Atop the doorframe is a hex sign, the sort of thing to which one quickly becomes accustomed at Quaker View farm.
Near a bend in the open swath of driveway, leaves of sumac red and oaks orange give accent to a yellow playhouse in the background, a structure I later learn has been christened with the name of "Toad Hall."
It is here that a red pickup truck rolls into sight, driven by Fred Leimkuhler, the master of Quaker View. He opens the passenger door.
"You better get in it's a long way to walk," he says.
Just outside the window as the vehicle travels slowly, Brother Hiram ambles along at a steady pace.
The elementary school's annual field day has been going as usual, Leimkuhler said in his matter-of-fact yet jovial tone of voice.
"One kid got sick and we had to take him back to town," he said.
The rest of the schoolchildren, he said, were at stations where they were learning about artifacts and arrowheads, traditions and dress of American Indians, how to draw, make pottery, string bright pieces of pasta into colorful necklaces, and to sit still during face paintings.
Heritage talk
In the shady inner-elbow area of an L-shaped pond, Jan Morris greets children. She is wearing 48.5 pounds worth of traditional American Indian dress, the same clothing she wears when she dances at powwows. Topping her waist-length braided hair are feathers from a hawk and bald eagle. Two beaded medicine bags hang from a belt on her waist. In one, she said, she carries sage and tobacco for prayers. In the other, she carries money and a driver's license. She wears a necklace her brother carved out of buffalo bone.
The first question the children ask is this: "Are you a real Indian."
Morris replies, "If I had a nickel for every time I've been asked that, I'd be a millionaire."
Morris is three-quarters American Indian, she tells the children.
A photojournalism graduate from the University of Kansas, Morris lives in Kansas City, Mo., and works as a photographer for the Associated Press.
But her love is her heritage. She has made her doeskin dress, spending on the skirt alone four hours in drawing the pattern and cutting the cloth and another five hours in sewing the seams with sinew. She made and beaded her shawl and purse. As she tells the children about her American Indian heritage, she holds in her right hand feathers from a bald eagle.
One child asks her if she can do a rain dance.
"We don't do rain dances," Morris replied. "That's a myth. We pray for rain just like everybody else."
Nature's gifts
As Leimkuhler and I climb into the pickup truck to head to the next area at the farm, up from the pond saunters Brother Hiram. His fur is dripping wet. Leimkuhler stops the truck in mid path, walks a few steps and snaps off a bundle of white flowers. He hands it to Jennifer, a visiting student who rides with us in the truck. The plant, he says is called "Sweet Everlasting," and it fills the car with the scent of vanilla.
"I tell people that God is not only concerned about pretty flowers," Leimkuhler said. "But he wants something you can smell, too."
Leimkuhler, who used to farm the ground, is turning it to prairie grass. Acres of land move in the breeze. The tall red grass is fluid and graceful in the afternoon light. "They tell about the people on the prairie who would become seasick watching the grass waving," Leimkuhler said.
The farm is dotted with hardwood trees, among them varieties that Leimkuhler has hybridized himself. He gathers a handful of single-lobed walnuts, an example of his work. These walnuts, he said, are unique in that they come out of the shell in one piece.
When we return to the farmstead I see two other hex signs over doorways. Leimkuhler says he does not know what the hex signs mean.
"I'm not superstitious," he answers. "I like to put my left shoe on first, but other than that I'm not superstitious."
On the back porch of his house, Leimkuhler opens a refrigerator door and offers me a glass of apple cider he pressed two weeks ago from this year's crop. The cold beverage has a bite to it and quenches the thirst.
This is the first autumn in years, maybe half a century, that Leimkuhler has made cider without sharing the process with his wife, Martha. After 59 years of marriage, this summer Martha was admitted to an Alzheimer's care unit in Kansas City, Kan. She was always a brilliant woman, he says. But now, it is as if she is someone else.
Leimkuhler stretches his view across the not-so-distant valley that borders Stranger Creek. He knows the history of the area as well as anyone around and he wants the knowledge to live on. This is why he continues the tradition he and his wife started of inviting large groups of schoolchildren to come to his farm.
As I leave, Brother Hiram, still on duty, watches from a distance, then follows. But moments later he hears the voices of children returning from the field and he quickly turns back toward the house. After all, Brother Hiram is the official greeter at Quaker View Farm, and there is work to be done.