Weekend warriors
Saturday youth football league helping local players learn basics of sports
Area fans interested in seeing a glimpse of a possible 2007 Tonganoxie High School Football team can head to the Basehor Field of Dreams.
For the past six years, Tonganoxie has fielded fifth- and sixth-grade teams in the Basehor Athletic Association. This year, a Tonganoxie third and fourth-grade team was added. Fifth/sixth-grade coach Bob Koontz said having younger teams can only help development.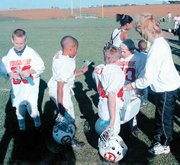 "Most kids have already played five or six years," Koontz said.
Players might be slightly larger than the football, but Koontz said kindergarten and first-graders also have leagues, although they play flag football.
Safety concerns
Some children hit growth spurts at different times, and some players are twice or three times bigger than opponents.
Koontz suggested the league have a larger and smaller division after he took a player to the hospital each of the last three years.
The league also has a rule in which larger players wear X's on their helmets to signify who is bigger. Those players who are larger than 110 pounds can't be outside the offensive tackle's outside shoulder. These players also can't advance a pass. The ball is down where they catch it.
Funding the team
The younger Chieftains will be using school-issued equipment when they play at the junior high and high school levels, but for now, they're on their own.
"Parents are spending upwards of $300 if they don't have equipment already," Koontz said. "We're not funded by anything."
Karla Schlitz said it takes about $150 for each player to be in the league. Schlitz has started a fund-raiser campaign with local businesses.
The team will sell discount cards for use in Tonganoxie.
"Slowly but surely," Schlitz said. "We have 15 businesses. We're planning a car wash next summer."
Tonganoxie might enter a Lawrence youth league next year. That league supplies equipment for the youth.
"The Lawrence league is really organized," Koontz said.
Drawing up plays
The teams practice two nights per week on the THS practice field. Koontz coaches the older team, while Gary Wagner and Teri Holloway direct the third- and fourth-grade team. Tamara Young coaches a spirit squad of equal-aged girls. They practice cheers alongside the football teams.
"We have 20 cheers," Young said. "They're doing great."
The football team also has its share of diversity. Koontz said the team runs between 15 and 20 plays in three formations.
"We don't have a thick playbook," he said.
Koontz has been the "ballboy" for THS games. He's running plays based on the high school's formations.
"I've learned a lot from the Elstons," Koontz said, referring to THS coaches Mark and Don Elston.
The fifth- and sixth-grade team is 2-2 and played Tuesday night at Linwood. The team usually plays on Saturdays at the Field of Dreams. Those fields are slightly narrower and shorter than regulation fields. Koontz's team throws the ball often in the smaller dimensions.
"We pass more than any other team," Koontz said.
The younger team hasn't won yet, but scored its first touchdown two weeks ago on quarterback Austin Holloway's long touchdown scamper.
"You could just see the whole sideline of parents run with him," Koontz said.
Wagner enjoys coaching the team after playing at Piper, Butler County and Missouri Southern. He finished his career at Southern in 1990.
"They're great kids," Wagner said. "You have to be patient and you have to teach them fundamentals."
Hangin' with the boys.
Each Tonganoxie team also has a girl on the roster. For the older team, Sarah Flaherty is a receiver and corner. Koontz said she's one of the team's better players.
"She has some hands on her," Koontz said. "She made three catches today (Oct. 6)."
Flaherty said she has played since she was 4.
"It's just normal for me," Flaherty said.
She has also pondered playing in junior high and high school.
Jordan Schlitz, meanwhile, is playing for the third- and fourth-grade team. Her mother, Karla, said she was very excited about playing. Schlitz is a lineman right now and said she joined football to beat up on boys. Although she's a lineman now, Jordan wants to play at a different position in college.
"I want to be a receiver," Jordan said.
Karla shook her head in disagreement.