Basehor's edge
THS

eliminated from playoffs despite outgaining Bobcats
Tonganoxie donned a new look Friday night with white jerseys and white pants against the all-green Basehor-Linwood Bobcats at Basehor.
The different appearance, though, wasn't quite enough. The Chieftains lost 15-0 to the same squad that knocked THS out of playoff contention last year with a 21-14 win.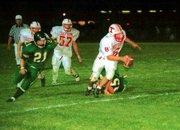 The Chieftains posted comparable statistics Friday. THS had 176 yards on the ground, compared to Basehor-Linwood's 206. Tonganoxie had 96 passing yards compared to Basehor's 30 yards in the air, which meant Tonganoxie held the total yard advantage, 276-232. The Chieftains, though had three turnovers to Basehor's two.
Both defenses held their ground in the first half.
Basehor-Linwood (4-4 overall and 4-1 in the Kaw Valley League) had just a 7-0 halftime lead on a Matt Dukes' 8-yard run in the second quarter.
In the third quarter, though, the Bobcats put together a big drive on the ground.
BLHS assembled a seven-play, 64-yard drive that included three straight 13-yard runs. Quarterback Nick Verbenec scored the touchdown on a two-yard run, then added a final blow with a two-point conversion on a run to the right side.
"They just executed," Tonganoxie coach Mark Elston said. "We had a chance for a quarterback sack. It was defended really well."
Tonganoxie (5-3 and 4-2) had its own threat on the previous series, driving deep into Bobcat territory, but the Chieftains were stopped on fourth down.
"It took the wind out of our sails." Elston said.
The Chieftains did have another chance after the Basehor score, but junior quarterback Troy Morando threw an interception at the Bobcat 10-yard line.
Tonganoxie had five possessions inside the 15, but none developed into points.
Morando led the team in rushing with 109 yards on 18 carries.
Tonganoxie started the game strong. After forcing Basehor-Linwood to punt in its opening possession, Tonganoxie drove deep into Bobcat territory after sophomore quarterback Justin Walker connected with senior receiver Kyle Mayse for a 43-yard pass to the Bobcat 38.
The Chieftains added two more first downs and were inside the 15, but a motion penalty on third-and-one moved THS back, and the drive stalled.
Tonganoxie closes out the season Thursday at Lansing.
Although the Chieftains won't advance to the playoffs, they could win the KVL with a win and a Basehor-Linwood loss.
"That in itself should be motivation to not pack it in," Elston said.

Basehor-L'wood 15, Tonganoxie 0
Tonganoxie (5-3, 4-2) 0 0 0 0 0
Basehor (4-4, 4-1) 0 7 8 0 15
BL Dukes 8 run (John Clouse kick)
BL Verbenec 2 run (Verbenec run)