Remember safety on Halloween night
It's that time of year again.
Next Wednesday, as day turns to night, goblins and ghouls will head for neighbors' homes, in hopes of filling up sacks with treats.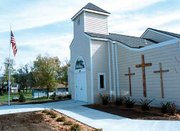 On Halloween, area residents should exercise an extra measure of caution, to ensure the holiday is safe for trick-or-treaters of all ages.
And there's good reason to be more careful.
According to a study conducted by the U.S. Center for Disease Control between 1975 and 1996, the number of deaths among pedestrians ages 5 through 14 is four times higher on Halloween evening than any other evening of the year.
And a 1999 National Highway Traffic Safety Administration report shows that fatal collisions between motor vehicles and pedestrians younger than 15 occur most frequently between 4 p.m. and 8 p.m. Those are prime trick-or-treating hours.
That same report said that 84 percent of deaths among young pedestrians occurred away from intersections. That indicates that children try to cross the street mid-block a location that motorists aren't looking for them.
It's important that motorists stay well below the speed limit while children are out and about next Wednesday. And they should remember that it's dangerous to pass vehicles that have stopped in the road. Those vehicles could be dropping off a group of children.
Parents, too, should make certain that their children's costumes are easily visible at night. Children should carry flashlights, and glow sticks or reflective tape should help light up costumes.
Parents should caution their young ones about the dangers of walking at night. Most children are not accustomed to being out after dark. Parents should accompany their children during trick-or-treating ventures and make sure that stops are made only at homes with porch lights on.
And once home, parents should peruse their children's bounty to make sure it is safe to eat.
Halloween is an annual opportunity for children to receive treats just for playing dress-up. It's important for adults to be aware and to protect all the children in the area.