Patriotic business is booming.
Americans are buying and flying flags as never before. Store shelves, once filled with red white and blue, are empty.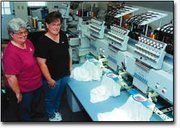 But one Tonganoxie business has a novel way of supplying more flags: They make their own stitch by stitch.
Sherry Coulter and Michelle Weigel, owners of Rainbow Designs, a professional embroidery business, say that since the Sept. 11 acts of terrorism, more of their clients are asking for flags.
Recent orders have included a golf tournament sponsor that added flags to the sleeves of its golf shirts, an oil and chemical workers union that wanted all its members to have shirts with flags, and a company that asked for flag-decked aprons for its annual picnic.
Coulter and Weigel were happy to oblige.
Tonganoxie bound
Though their venture into the business together took place only a year ago, Coulter has been working with machine embroidery for seven years. She had always loved to sew, had collected children's sewing machines for years, and took up machine embroidery work as a spare-time project to focus on when she wasn't working at Proctor and Gamble in Kansas City, Kan.
At that time, the Sherry and her husband, Larry Coulter, lived in Kansas City, Kan., on land that is now part of the Kansas Speedway. They had earlier purchased 18 acres southeast of Tonganoxie and planned eventually to build here.
With Kansas Speedway on the horizon, their plans moved a little faster, and four years ago the Coulters moved into their new spacious earth contact home. Soon after, Larry's parents, Mae and Erman Coulter, moved into a mobile home across the driveway. Mae helps in the shop, and even brings lunch when things are hectic.
New patterns
The first months here were trying times for Coulter, because she learned she had a brain aneurysm. After undergoing brain surgery, Coulter says, she took a new look at life.
As much as she liked her work at Proctor and Gamble where she had worked for 30 years, and where other workers were like family, she knew it was time for a change.
"I bought my first commercial embroidery machine four years ago," she said. She started out doing small sewing jobs in her house.
"It wasn't an official business," she said.
But then she came in contact with Custom Specialties, a Lenexa business that could place large orders for machine embroidery.
That's when Coulter's hobby turned bus- iness. Last week, Coulter and Weigel turned out 1,850 design pieces. A design piece, she said, is a single design. For instance, she said, a shirt that has designs embroidered on the left and right side would count as two design pieces.
To accommodate this growing business, Coulter invited her friend, Michelle Weigel, a former law office employee, to join her in the venture. Weigel brought her own equipment, a $25,000 business package, which includes a single-head German-made computerized commercial embroidery machine, and a computer and software.
Not long after, Coulter purchased a new four-head commercial machine. Each head is a separate sewing machine, but the units are part of one large unit and all the heads can be programmed to sew the same design at the same time, or to sew different designs.
On a recent morning, as Coulter and Weigel plan their day's sewing, the machines, operating at 710 rpm, are stitching American flags on T-shirts. A beeping sound from one machine, and then the one next to it, draws their attention. The bobbin spools are empty. Deftly, they take full spools from a cardboard box and insert them into the base of the machines.
These flags require thousands of stitches and each will take about 30 minutes to complete. A hoop holds the fabric taut during the embroidery process.
The machines start out by laying a solid layer of white stitches in the striped area. Next, stripes of red are stitched on top of the white. Then the field of blue is added, next the small white stars and, finally, a border of gold.
Some of the designs, programmed into the machines, are available on software, some are downloaded from the Internet and some are custom-designed, Coulter said.
While the machines look like they would be complicated to operate, especially to thread, Coulter said that's the least of the challenges.
Seamless challenges
"The hardest part is learning all the other parts of the business," she said. "Things like, how much do you charge and trying to meet a customer's deadlines."
So far, most of the business has come through the Lenexa company, but Coulter said they now have a growing number of Tonganoxie customers.
As their business grows, so does their need for space.
Family and friends worked together to finish off a room of the attic to house the business. As this area becomes more cramped for space, the women say they might consider updating a building near the house.
In five years they hope they will be able to move increasingly into the more creative part of their business where they can do more designing.
But even with the large orders using company logos that take up the bulk of their time, the women said it allows them some room for self expression.
"It's fun, it's creative," Weigel said.
Coulter agreed, "You're doing different things each day."
Time is at a premium, they said.
"We work weekends," Coulter said. "We're both hard workers. This weekend I'm taking off, but I have a feeling Michelle will be here."