THS

in playoffs after home win
Regionals started Tuesday and Tonganoxie earned a first-round home game against Maur Hill at Chieftain Park.
THS entered the game at 7-8-1, while Maur Hill, from Atchison, was 5-10-0. The winner will play Kansas City-Christian (14-1-0) at 6 p.m. Thursday at KC-Christian Park.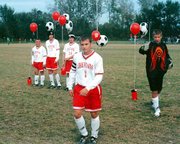 Results of that game are in a story posted to The Mirror's Website: www.tonganoxiemirror.com. A more complete report will appear in next week's edition of The Mirror.
Tonganoxie's regular season ended with a win Thursday, but Immaculata came inches from beating Chieftains at Chieftain Park.
Tonganoxie grabbed a 2-1 win, but the Raiders missed goals on a few occasions by hitting the goal's crossbar.
"I was asking Tate if he was being nice to the goal post," THS coach Harold Pittman said, referring to senior goalie Matt Tate.
The Chieftain goalie had 12 saves on the game, while the Raiders had four.
Tonganoxie scored first on freshman Chris Colon's goal in the 22nd minute of the first half. The Chieftains had just six shots on goal by halftime, compared to Immaculata's 12.
The Raiders tied the game in the 37th minute on Dan Myers goal.
In the second half, senior Pat Weyer put the Chieftains ahead for good with a goal after the Immaculata goalie let the ball slip through his legs. Weyer was behind him and scored easily.
"He dropped it and I was just there," Weyer said. "Coach always tells us to keep going, and I just got it."
Immaculata finished the game with 17 shots on goal, while Tonganoxie tallied 16. Both teams had two corner kicks.
The Chieftains avenged a 1-0 loss Sept. 25 at Leavenworth, and Pittman said the season-series split helped immensely.
"I think it was a big step, especially against a team we lost to earlier," Pittman said.