Area schools administrators count additional students
Predicting who will be where when the roll is called isn't easy for schools, two area superintendents said.
"You can guess and speculate and try to be as scientific as possible, but the bottom line is, you just kind of have to wait and see who shows up," said Cal Cormack, Basehor-Linwood superintendent.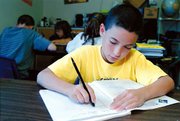 Richard Erickson, Tonganoxie superintendent, agreed.
Preliminary enrollment numbers for Tonganoxie school district show a drop from what was anticipated at the start of this school year, the school superintendent said.
"A couple of weeks ago we were at 1,418," Erickson said. "We're at 1,406 as of today."
Erickson said until the district's official count is tallied on Sept. 20, he won't be certain what this year's enrollment is.
Last year, Erickson said, the district had a full-time-student equivalent of 1,403.5.
So, it appears this year's enrollment in Tonganoxie schools will top that, he said.
"I'm going to feel good if we can hold our own and not bottom out as far as losing significant numbers in enrollment, which has been the case for the last five years," Erickson said. "I hope this has been the turning point for us."
Genesis Christian Academy
Shelly Gossett, administrator of the 5-year-old private school, said 73 students are enrolled in the school's kindergarten through sixth grades. Additionally, 56 children are enrolled in preschool.
The school, which meets in classrooms at the Tonganoxie Christian Church, will move early this month into the church's newly completed educational wing.
About half of the elementary school students commute from neighboring towns, Gossett said. The preschool will remain in its present location.
The breakdown in class enrollment are: kindergarten, 15; first grade, 15; second grade, 10; third grade, 15; fourth grade, 12; fifth grade, three; and sixth grade, three.
The school plans eventually to add seventh- and eighth-grade classes, Gossett said. And a high school is being looked at.
Basehor-Linwood
The Basehor-Linwood school district, which encompasses 85 square miles, may be seeing a growth in enrollment this year.
Superintendent Cal Cormack said preliminary numbers show an enrollment of 2,021 students, compared with 1,980 students last year.
"About half of that is due to an increase in in-district enrollment, and another 20 could be attributed to the virtual charter school, which is up by about 20 students from last year."
The virtual charter school is an Internet-based school curriculum that the district operates.
"For whatever reason, the in-district growth that we've anticipated is now beginning to happen," Cormack said.
"We thought it would take another year to kick in. I know that at one percent it's not a significant increase, but it is an increase."
McLouth
McLouth this year has a smaller drop in enrollment than was predicted, said Jean Rush, superintendent.
"Our projected enrollments showed we were to be down 11 students, based on last year's senior class in the number of kindergarten students," Rush said.
But at the first day of school, the district's enrollment was only down eight students from the year before.
Rush, who anticipates the enrollment decline ultimately to be fewer than eight, hopes the area's growth will eventually affect McLouth.
"As soon as it gets through Basehor and Tonganoxie, it's our turn," Rush said. "That's what we're hoping for."