Building permits down in city this year
Single-family housing starts increase from 2000 totals
Tonganoxie's building permits for 2001 are trailing behind this time a year ago. And residential housing sales have slowed, Realtors say.
The decrease has come in the number of multi-family units. New single-family housing starts actually are up from last year.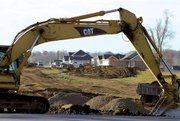 Linda Zacher, city planner, said so far this year the city has issued building permits for 24 single-family residences, 11 duplexes (22 units) and one fourplex (four units), for a total of 50 units.
A year ago at this time, the city had issued 66 building permits 18 single-family residences, 20 duplexes (40 units) and two fourplexes (eight units).
The year 2000 concluded with a total of 99 housing units, the highest on record for Tonganoxie, Zacher said.
Lem Evans, a co-owner of Evans Real Estate, said the sales of new and older homes has slowed this summer.
"The price of gasoline seems to affect our market here, because we are a bedroom community," Evans said.
He also blames part of the slowdown on the news media.
"Every night they're telling us how bad the economy is," Evans said.
Evans said that in his view the newer homes in Tonganoxie are priced higher than they were in 2000.
"A year ago we were selling new houses for $130,000 to $140,000," Evans said. "Now those homes are being priced at over $150,000."
Also, he said he thought some older homes in Tonganoxie aren't moving as fast as they should.
"There seem to be more houses for sale and the signs are staying up longer," Evans said.
Evans added that he thought some of the older homes in Tonganoxie might be priced too high.
Art Hancock, of Hancock Realtors, said he still thinks the demand remains high for older homes. But he did say he'd noticed a slowdown in the economy. "It's not just locally, it's everywhere," Hancock said.
Duplexes have been especially popular in Stone Creek, said Hancock, one of the developers in the new subdivision.
"The people who are building them out there are telling me that they're renting them as soon as they complete them."