City administrator plans to resign
Chris Clark, who started work 13 months ago as Tonganoxie city administrator, plans to resign.
He said Tuesday that he plans to return to Massachusetts.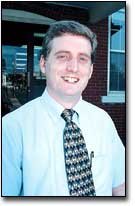 "It was a family decision to move out here, and it's a family decision to move back," said Clark, 35.
Clark and his wife, Stacey, were attracted to northeast Kansas because members of Stacey's family live in the area. And she originally is from the Salina area. The couple have two children, Mitchell, 7, and Morgan, 5.
"We want to go back," said Clark, a lifelong Massachusetts resident. "All of us miss friends back there. Professionally, this was a step back in my career."
Before taking the administrator's job in Tonganoxie last summer, Clark was assistant city administrator in Wellesley, Mass., a city of 26,000 people with a budget of $65 million. That compares to Tonganoxie's population of about 3,000 and its $3 million budget.
Although Clark has not yet secured a specific job in Massachusetts, he is confident he will work in city government. His family's plan is to sell their house in Tonganoxie. Then, Clark officially will give the 30 days' notice required in his contract with the city.
"That's the intent," Clark said.
Mayor John Franiuk, who along with other city officials went through two searches before hiring Clark in summer 2000, said he's eager to start looking for Clark's replacement.
"We need to give Chris the time to clean up the affairs of the city that he's already started," Franiuk said. "I think he's got a pretty good handle on things. We'll start our search again and probably start before he's gone."
Franiuk said Clark has been a tremendous administrator.
"We were at a point in our growth where we needed an administrator who had 10 years of experience," Franiuk said. "And we've gotten that. We've got to make our minds up about what kind of administrator we need the next time."
The mayor said he wasn't surprised at Clark's decision to leave the city.
"I knew his abilities were vastly superior to what the city of Tonganoxie needs at this time," he said. "He's a young guy, he's smart and he's going to get other opportunities. I think he felt he had to be the boss for once and try it out and see how it fit him. He was successful at it, and he'll make a great administrator for a larger city."
Clark said his greatest accomplishment was to hold the line on the budget during the past two years. While the county has cut services and approved a 9-mill increase to finance the 2002 budget, Tonganoxie residents are looking at a 1.5-mill tax increase and will have a new police officer and firefighter on board.
"Taxpayers are getting something for their dollars," Clark said. "The biggest accomplishment is keeping the total tax burden on people the elderly as minimal as possible."
In addition, he was pleased the city updated its building codes and included penalties for not adhering to codes. Those changes came after a February fire at an apartment complex in Tonganoxie.
"That fire really made me nervous," Clark said. "There could have been loss of life."
Clark has some advice for city council members and the mayor as the search for his replacement. He said his successor should be a good listener and have leadership skills.
"This city council has been very good in looking out for the citizens as a whole, and they have resisted the temptation to pander to special interests," Clark said.
Franiuk has his own ideas, as well.
"I think I need someone who is progressive and not looking for a retirement job," he said.
The city soon will embark on a water project to draw water from wells near the Kansas River west of Linwood. In addition, expansion is slated on the sewer treatment plant.
"I'll be looking for someone who has a lot of facilities experience," Franiuk said. "I'll be looking for somebody who can deal with the growth issue."