Tuesday night blast kills 37-year-old man
Accident occurs north of Tonganoxie
A 37-year-old Bonner Springs man died Tuesday night when an oil tank exploded about six miles northeast of Tonganoxie.
Leavenworth County Undersheriff Dave Zoellner said Donny Gene Graham, 37, and Jeffrey Scott McClellan, 21, both of Bonner Springs, were checking an oil tank about 9:12 p.m. when the accident occurred.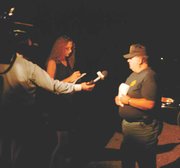 Zoellner said Graham was killed in the blast.
"The tank exploded, one individual got away from it and the other man was just located about 35 yards from the tank. He was dead at the scene," Zoellner said. "Apparently when the individual was checking the contents of the tank, he couldn't see so a match was lit and the explosion occurred."
After the blast, a fire burned for about an hour before firefighters extinguished it with foam. They also watered down nearby tanks to cool them. Firefighters from Stranger, Fairmount and Tonganoxie townships responded to the emergency. And Leavenworth County Emergency Management personnel were on the scene.
The 1,000-gallon tank, located at 23012 207th St., contained about 600 gallons of crude oil at the time of the explosion, Zoellner said. The tank, owned by Renegade Resources Corp. of Reno, Nev., was on property owned by Helen Lohman.
Apparently, Graham had been asked to check the wells by an area resident.
"It's my understanding that the person who was to oversee the oil wells had come in contact with these two individuals who would check the oil wells for her," Zoellner said.