Game plans
Tonganoxie couple says it's all in hte cards
It's a roll of the dice for Mike and Gail Drake.
They're hoping that others will like their newly created game, "Locution," as much as they do.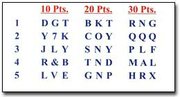 The Drakes, who live about three miles southwest of Tonganoxie, have played games throughout their 20-year marriage. For instance, it's virtually useless to even try to think of beating the couple at Scrabble they've played it so often.
But anyone, even the novice, just might have a chance of beating the Drakes at their own game.
"There are no wrong answers in Locution," Mike said.
Here's how the game works.
Players look at cards that carry three-character word fragments, or groups of letters, symbols and numbers, and they try to guess what other players will think the letters, numbers and symbols stand for.
"For instance, responses to this series, 'APR' could be April, appropriate, appear, Annual Percentage Rate, etcetera," Mike said. "Or '747' might be airplane, Boeing, July 1947 any answer that makes sense to you is correct."
However, players can only make points by matching with the answer of the primary player, who has written an answer that is hidden from the other players.
The game is harder than it sounds, the Drakes say.
"Anticipating your teammates' answer to CAL, A&W, BTR, WHO, BOB, 7UP can be as challenging as thinking up your own response," Mike said.
A game rule specifies that more than one letter must be added to a word fragment to qualify for points. For instance, with the letters "IBM," the possible answers could be "computer" or "International Business Machines."
An almost unlimited number of players can participate, Mike said, and no one has to wait while other teams are playing.
Breaking even
The couple hopes to break even on their investment. But even if they don't, the Drakes say they can think of this project as a goal accomplished.
The project began to take root about three years ago.
Mike said he began to notice how often acronyms are used today. Acronyms are words formed from the first letters of names, for instance, UPS for United Parcel Service.
"I had been reading periodicals and I kept noticing acronyms, ones that I always had to go back and check what they meant," Mike said. "I got to the point where I would make it sort of a game to try and remember them."
Then, he noticed that Gail was doing the same thing.
"I asked her one day what our car license number was and she said 'Bubble 369,'" Mike said. "She explained that the letters reminded her of the word bubble and that's the way she remembered them."
Associations
The couple's awareness of how people associate sequences of letters, numbers and symbols, increased. They gradually started gathering and writing down word symbols. It was a pastime that snowballed into a purpose to invent a game.
Soon they were researching to come up with enough symbols expecting that more than 3,000 would be needed. Finding they'd come up with all they could think of, the couple began researching.
"We went to the Bible, we went to the dictionary, maps and newspapers," Gail said.
When a total of about 3,300 word fragments had been gathered, Gail spent a couple of weekends typing them, then alphabetizing them.
After that, they sorted through the series to arrange them in a point system.
"The fairly easy ones, the ones that everyone would recognize, we put in the 10-point column," Gail said. "Ones you have to think about a little bit we put in the 20-point column and those that you really really have to think about or if they have many possibilities, we assigned them to 30 points."
In the beginning
Mike, who works in the bowling equipment industry, and Gail, who is office manager in the office of the Tonganoxie board of education office, did most of the work in their spare time. But last spring, they did take a couple of vacation days to visit manufacturers in the area.
"We started out on cloud 9 that first day, and by the end of the day we were so frustrated," Gail said.
There would be hurdles. Eventually, they learned that in order to have boxes made, they would have to start with an order of 1,000. They learned that a printing company could print and cut their cards for a reasonable cost, but that collating them so that there would be 220 identical cards per deck for a total of 220,000 cards would cost an additional $8,000. And, they learned that getting a UPC code costs $750. To cut costs, the Drakes opted to sort the cards themselves, and for the time being, to go without a UPC code.
By mid-July, all the boxes, dice, cards and other supplies for the games had arrived and the Drakes went to work collating the 220,000 cards on a table set up in their living room.
Gail joked about the work they've put into the sorting the cards:
"When I said 'I do' 20 years ago, I never knew it would involve this."
Rewards
Early sales have gone well, the Drakes said. The games sell for $25, and several people who have bought the game and played it have already purchased more games to give as gifts.
Each game includes a response card so that the Drakes can know what others think about the games.
And, as for the Drakes, now that their collation of nearly half a million cards is complete, they can begin to enjoy the results of their work.
"The best part about it," Mike said, "I think