Soccer team can't find net; goes 0-1-1 in first week
The Tonganoxie soccer team has allowed one goal in four halves this season.
Unfortunately for the Chieftains, they have yet to break the goal themselves. After playing to a scoreless tie against Basehor-Linwood on Sept. 4 in Basehor, the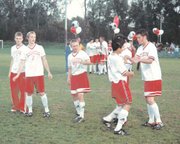 Chieftains fell to Perry-Lecompton 1-0 last Thursday in Perry. Tonganoxie attacked the goal repeatedly in the first half, but came up empty each time.
THS coach Harold Pittman said the team had worked on better shot selection after the Basehor game, but couldn't quite get a goal at Perry.
"We were just unlucky," Pittman said. "We couldn't buy a goal.
"I don't know how many times we hit the post. We just couldn't touch it in."
In the second half, the Kaws seemed to control much of the game. Tonganoxie had opportunities, but Perry-Lecompton earned its goal on a corner kick from the right in the 18th minute. Perry-Lecompton's Jeff Lewis got the goal and the Chieftains never recovered.
The Kaws threatened again minutes later, but senior goalie Matt Tate stretched to his left for the save. Despite the stop, the Chieftains never really gained momentum again.
"We lost heart after that goal," Pittman said. "Disappointment took them."
Tonganoxie had three corner kicks and a penalty kick, but the Chieftains came up empty each time.
THS will play at De Soto on Thursday. Junior varsity begins at 4:30 p.m. and varsity gets started at 6 p.m.
Tonganoxie's first home game won't be until Sept. 20 against Mill Valley. The team s opener was postponed Aug. 30 because of lightning.