Students, faculty shocked by attacks
At Tonganoxie High School Tuesday morning, stunned silence accompanied news reports of terrorist attacks. In the school library, John Bretthauer, a junior, watched television with classmates.
"I was shocked," Bretthauer said. "I figured this would never happen I don't know what to say."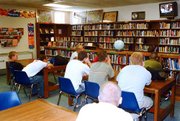 He felt sorry for the people in the World Trade Center and Pentagon, he said, and he feared that more people would be hurt.
"I think it's not done yet," Bretthauer said.
Sarah Fugate, a senior, said at first she feared the attacks would be as bad as those at Oklahoma City six years ago. Then it dawned that this could be even worse. She feared for those in the face of danger, as well as for others who might be affected, she said.
"One of my friends said her dad could get called back if we have to go to war," Fugate said. "And some people here have family members over there that's all they are talking about."
Cathy Cox, math teacher, fought tears as she watched the news reports.
"It's just insane," Cox said. "I can't believe it's happening in our country. And it's not just one attack but three."
Apparently, many people were hurt. "It just kills me when I think of all those innocent people on the airplanes and in the buildings," Cox said. "It's all just horrific."
Mike Bogart, high school principal, said that for 15 minutes in the morning, all the students were able to watch news reports. After that, televisions were on at discretion of teachers. All classrooms have televisions, he said.
Cox and Debbie Gravatt, library paraprofessional, said they were glad the students were in school when they received the news.
"I think the kids need to be here now because we know where they are and their parents know where they are," Gravatt said.
Since the end of June, Luke Manson, a 2001 THS graduate has been living in New York City where he is attending the American Music and Dramatic Academy, at 60th and Broadway, about three miles from the World Trade Center.
A phone call about two hours after the blast assured his mother, Janet Manson, that he was at school and unhurt. Classes were cancelled. In the afternoon, Manson called her again to tell her he was doing volunteer work for the Red Cross.
In the high school parking lot, Don Elston, assistant football coach, termed the morning's acts of terrorism as "more than unbelievable I don't know how to describe it."
It is difficult to comprehend the number of people directly involved, Elston said.
"Most of us can't imagine 50,000 people working in an area the size of the Trade Center," Elston said. "It's like Arrowhead Stadium filled on a Sunday afternoon."
The tragedies highlighted the uncertainty of life, Elston said:
"It makes you realize that you really just live from day to day."