More than 400 grandparents and grandparent-standins visited Tonganoxie Elementary School Friday morning for the school's annual grandparents day activities.
Richard Erickson, superintendent, greeted visitors at the front door and volunteers inside helped the guests sign in. This is the first year that grandparents have had to sign in, George said, a precaution taken in light of recent terroristic activities on the east coast, according to Tammie George, assistant principal.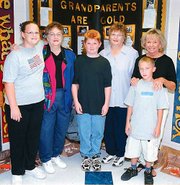 Speaking to students in Marc Haney's sixth-grade class, Allen Bell sat beside his granddaughter, Olivia Lorance, as he mentioned the tragedy in New York City. Bell said he and his wife, Sarah, felt lucky to be able to be at school with their grandchildren.
"Some of the grandparents in New York City many not ever get to see their grandchildren again," Bell said.
Bell said he has visited the World Trade Center many times.
"It's unbelievable to have seen how big the buildings were and then to see the rubble not only in structure lost but in the human lives lost," Bell said.
Just last year, Bell, who works in the construction of electric utility plants, spent six months living in Israel.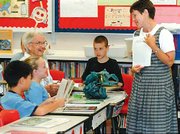 Olivia and her family visited Bell in Israel, he told the class.
"She has seen firsthand what it is to go through checkpoints," Bell said.
His travels, he said, make him more aware of privileges and freedoms in the United States.
"I'm thankful that we live in the country we live in," Bell said.
In other classrooms grandparents brought memorabilia to show students things that make them happy or make them sad. One grandmother brought a scarf to show children how she used to always wear a scarf on her head. Another grandmother showed students what a hat pin was for.
In Dianne Mahoney's fifth-grade class, some of the grandparents brought items and asked the students to guess what they were used for. One man brought dairy equipment that would keep a cow from kicking.
And in the gymnasium, grandparents and grandchildren took turns volleying balloons to each other.
In Janet Burnett's class, three students brought their grandmothers who are sisters.
Diana and Charles Mitts, Lenexa, came to school to visit their granddaughter, MaKayla Leslie. Mitts, who graduated from Tonganoxie High School in 1960, said he enjoys coming back here to visit.
Melvin and Joyce Williams visited their second-grade grandson, Ben Williams in Chris Korb's classroom.
The Williams never miss a chance to participate in this, they said.
"Grandparents day is really, really important," Joyce Williams said. "You walk in the door and you see their eyes light up."