THS

graduate volunteers in New York after attack at World Trade Center
Luke Manson went for 30 hours without sleep on Friday and Saturday.
And he says he'd do it again for another chance to do volunteer work in New York City.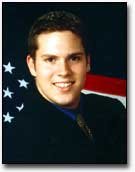 Manson is a 2001 graduate of Tonganoxie High School who was in New York City when the World Trade Center was attacked on Sept. 11.
On Friday, he put in a full day of classes at the American Music and Dramatic Academy, completed his evening shift at a theater near Times Square, stopped at Starbuck's for coffee with friends, and then was on his way home when he saw volunteers taking computers off a truck. He decided to help.
"I just started grabbing boxes and unloading," Manson said. "Later on, the crew manager looked at me and said go to the front desk and ask for your garage security authorization."
After that, he worked through the night, staying until noon Saturday as he helped load rescue vehicles with food and supplies.
As a result, he is now certified in mass care, which Manson said means he can work in shelters. He plans to take Red Cross instruction to gain certification to work on disaster action teams.
Manson is one of several people with Tonganoxie ties who were in New York City or in Washington, D.C., on Sept. 11, the date that terrorists flew planes into the World Trade Center and the Pentagon.
One of those is David Nelson, Brooklyn, who is listed among those missing from the World Trade Center collapse.
An employee of Carr Futures Inc., Nelson worked on the 92nd floor of the North Tower. He is the grandson of late Tonganoxie residents Norman and Stella Wiley and the nephew of Carol and Ed Slawson and Jerry and Roy Salmon, all of Tonganoxie. His parents, Betty and Warren Nelson, live in Kirkwood, Mo.
Carol Slawson said David Nelson's family believed he was in the World Trade Center at 7:30 a.m. last Tuesday.
"They were in hopes for a while because they knew he had a meeting scheduled somewhere else," Slawson said.
Nelson and his wife, Elizabeth, are the parents of two children, Ingrid, 8, and Frederick, 4.
The Mirror has been unable to obtain verification that Stephen Hoffhines, a 1969 graduate of Tonganoxie High School, was in the Pentagon when the plane crashed into it. However, it was rumored that Hoffhines had received only minor injuries from flying debris.
A Pentagon official on Monday was unable to verify Hoffhine's presence in the Pentagon at the time the plane struck the building.
He said the Pentagon has compiled a list of individuals who are missing not of those people who survived the attack.