Tonganoxie area empties pockets for terror's victims
On Saturday and Sunday, passers-by donated a heartwarming $15,436 in a fund-raiser to assist families of emergency workers who died in the Sept. 11 World Trade Center tragedy.
Jamie Paine, Tonganoxie firefighter, said volunteers quickly sensed the public's urgency to help. Tonganoxie area firefighters, emergency personnel and law enforcement officers used firefighters' boots to collect donations at two Tonganoxie intersections.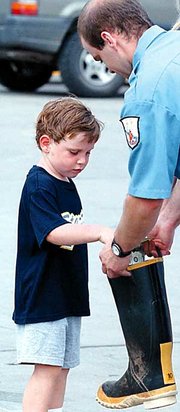 "I figured we'd take in $2,000 or $3,000 for the whole weekend," Paine said. "But after the first 20 minutes we knew it was going to be a lot bigger than anyone imagined. Within that time, the boot was half full and it was mostly fives, 10s and 20s."
The volunteers started at 7 a.m. Saturday. Charlie Conrad, fire chief, said that about 11:30 a.m., the group made a bank deposit of more than $4,000.
Pat Albert, Tonganoxie firefighter, said donors were of all ages.
"A car that had a little girl in it drove up and the mother said they'd be right back," Albert said. "They came back with a plastic bag full of coins. The little girl told us, 'I gave my whole piggy bank.'"
Truck drivers stopped. Motorcyclists stopped. Children on bicycles stopped. Customers at the nearby businesses walked over to make a donation.
"It's amazing what people were wanting to give," Paine said. "We've had a lot of people hand us $100 bills."
One woman made a donation and then gave to Paine a commemorative T-shirt that shows the Statue of Liberty topped with a halo, and words "Angels Among Us."
"I will frame the shirt and hang it at the fire station," Paine said.
The donations and the volunteer work helped more than the intended beneficiaries, Paine said. It helped make people feel as if there were something they could do.
"That's why we did it," the Tonganoxie firefighter said. "We were sitting down at the station last week watching it on TV and you just want to be there you want to be there to help get those people out."
Paine recalled the 1995 bombing of the federal building in Oklahoma City, and said that several of the firefighters had signed up to help with that rescue and recovery, but hadn't been called.
"This time I wasn't going to sit here through a whole week without doing something," Paine said. "It's such a tragedy to lose one firefighter any time, but to lose over 300 is more than you can imagine."
Children at Tonganoxie Elementary School started their own fund-raiser, "Change the World," this week, said Laurie Bottenfield, sixth-grade teacher.
"We'll have the children bring in pocket change for three days," Bottenfield said.
Each day that a child brings in any amount of change, he or she will receive a ribbon to wear, the first day a red ribbon, the second day white and the third day blue.
On Friday morning, students will put the ribbons up for the public to see, Bottenfield said, by tying them to the fence outside the building.
Bottenfield said elementary school teachers had decided that the funds raised would go to the American Red Cross.