Tonganoxie man wins titles as rookie
Dan Charles, Tonganoxie, has been around racing his entire life. His father Tom, who drives a modified car, has won more than 300 feature races overall.
Now the younger Charles is working on his own win count. Dan, in his rookie season, won the overall point standings at Heartland Park, Topeka, and Lakeside Speedway, Wolcott in the NASCAR Weekly Racing Series. He has won 11 features at Heartland Park and four at Lakeside Speedway, Wolcott, in the NASCAR Weekly Racing Series.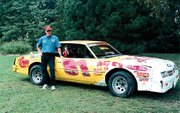 "At the beginning of the season, I thought it was a possibility," Dan said about winning the points standings. "But I never thought it would happen."
At Heartland Park, Dan made 17 appearances and led the standings with 901 points. Dan's performances at Lakeside earned him another top spot in the standings with 620 points. He competed in 30 races overall this season.
Dan, who races in his No. 81 factory stock car, could also earn rookie of the year honors. Dan has raced in a few events before, but they were for other drivers. At 23, he has gotten a later start than most racers. Still, Dan has been involved with the sport watching his father his entire life Tom's rookie year was 1978.
"When everybody else was going to the lake on the weekends, I was at the races," Dan said.
His 15 wins aren't a new concept for Dan. He was the 1997 Missouri state champion in bull riding, steer wrestling and the all-around.
Tom and Dee Dee Charles weren't enthusiastic about their son competing in rodeo events because they thought it was dangerous.
"They said 'we can't stop you, but we won't help you,'" Dan said.
When Dan and his wife Crystal had their first son, Austin, who is 4, Dan stepped away from rodeo. Now Austin is his biggest fan. They also have a son, Peyton, who is 1.
Whatever the sport, Dan doesn't enjoy losing, but he has become slightly less aggressive when it comes to trying to win.
While leading by a considerable margin at Lakeside early in the season, Dan spun out of turn four and collided with a slew of other cars. He finished in the middle of the pack.
Now a piece of duct tape is stuck near the steering wheel in Dan's car. It reads: Be smart finish.
"To finish first, you must first finish," Tom said.
Dan has apparently followed his father's advice. He considers his success a team effort. Tom and Dan make up the Eagle Racing Team, along with Dee Dee, Tom's crew chief Dale Kraft, Dan's crew chief Brian Bishop, and Crystal.
"She keeps me in line," Dan said.
The Eagle Racing Team has numerous sponsors, which illustrates the pricetag racing carries. With the right resources, Dan wouldn't mind being on a major circuit one day.
"If Joe Gibbs asked me to drive, I'd take it," Dan said.