Our world is becoming smaller.
Since becoming news editor at The Mirror in August 1999, on three occasions I've been contacted by students or friends of students in Germany who said their high school English textbook mentions Tonganoxie and they would like to know more about the town. Despite attempts to establish communication, I had been unable to start a dialogue.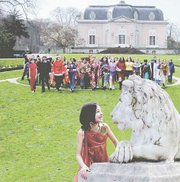 Until now.
Thanks to an enterprising teacher, Wolfgang Wagner, from Dusseldorf, Germany, that has changed. Now, students in his high school class at Schloss-Gymnasium-Benrath seem like friends.
For more than a month now, Wagner and his students have been sending e-mails to The Mirror, asking about Tonganoxie and sharing facts about their lives and lifestyles.
But first, let's have a look at what the textbook says about Tonganoxie:
Ruth, a teen-ager who lives in Germany, flies to Kansas City where she meets her cousin, Debbie Jackson, and her aunt and uncle (Bob and Sarah Jackson) at the airport. The family lives on a farm near Tonganoxie.
This is the quintessential American farm, complete with chickens in the hen house, a harvest-hand's supper (roast beef, potatoes, vegetables, gravy, salad, bread, milk and ice cream) on the table and a rambling two-story white frame house, with barn, tractors and even oil wells in the yard.
"We grow mainly wheat and corn here," said Uncle Bob.
Ruth rides into Tonganoxie with Debbie, and they cruise Fourth Street.
"A main street, a few shops and that's about it. If we need anything special, we have to drive into Kansas City," Debbie tells her.
Debbie tells her she attends Tonganoxie High School with about 350 other students, and her free time is occupied by "going to a club" after school, then by working at the Pizza Place three evenings a week. She also sings in the church choir. She and her friends frequently gather at the ice-cream parlor.
"We sit here and talk, or sometimes we go for a ride in somebody's car," Debbie tells Ruth.
"Where do you drive to?" Ruth asks.
"Nowhere," Debbie says, "We just drive from one end of the town to the next, turn around and drive back. It's called cruising. It sounds crazy, but we all do it."
With that in mind, let's look at some of the students' questions about Tonganoxie.
Why is the town called Tonganoxie?
It was named after a Native American who was referred to as "Chief Tonganoxie." He was a Delaware Indian for whom the United States government built a two-story lodge on the east side of Tonganoxie. This lodge in the mid-1880s served as a home for Tonganoxie and his family, a stopping place for travelers and a post office.
What is the historical background for the name?
The word "Tonganoxie" loosely interpreted means little big man, or boy who acted like a grownup when he was young.
Do you have any special buildings in Tonganoxie?
We have schools, churches and a quaint city hall. Although there are many nice-looking buildings (homes and businesses) in the city, there are none that come to mind that could be representative of Tonganoxie.
Is Tonganoxie a calm town?
For the most part, Tonganoxie is a quiet Midwestern town. The crime rate is low.
Is there a lot of nature in and around Tonganoxie?
As you may have in Germany, there are many white-tailed deer in the area. Although they are lovely to look at they are a hazard for drivers of vehicles.
How is the weather in Tonganoxie?
It's hot and cold. Summer temperatures can rise as high as 120 degrees, and usually in the winter the area will see the temperature drop below zero. You've probably heard about tornadoes. A large tornado ripped through Tonganoxie on May 11, 2000, tearing down trees and damaging houses, destroying some. Sadly, a child was injured and died during cleanup activities.
Does Tonganoxie High School really exist?
The school is 100 years old.
Is there another high school in Tonganoxie?
We have a public grade school, junior high school and high school, and one private grade school, operated by the Tonganoxie Christian Church.
Are there many tourists in Tonganoxie?
We don't see a lot of tourists in Tonganoxie, but people do like to come here to eat at the restaurants, and to attend Glen's Opry, a music hall where country music is performed.
For a week every August, Tonganoxie is the home of the Leavenworth County Fair, complete with a parade, a car demolition derby, rodeos, carnival rides and games, fair entries and of course food.
And, so our readers can know a little more about the German students, their school, which used to be a boys' school located in a castle, now has 800 students. In their spare time, some of the students like to do inline skating, skateboarding, play tennis and dance at discotheques. For information about their school, their Website address is www.schloss-gymnasium.de. Of course, the site is in German.