Chieftains smother Atchison
THS

,4-0, enters Kaw Valley League schedule this week
The Tonganoxie softball team could probably get used to this recent trend.
The Chieftains have allowed four runs in four games and have played just one seven-inning game.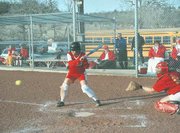 The others have been cut short because of the mercy rule.
When the Chieftains hosted Atchison on Thursday, Tonganoxie won the first game 13-0 and the second 15-2.
"They were a good team to play," Chieftain coach Mark Mall said. "I thought we were a better team by the way we came out."
Tonganoxie started well in both games. The Chieftains posted three runs in the second, then five each in the fourth and fifth for a 13-0 lead going into the top of the fifth. Atchison couldn't produce any runs, and the Chieftains recorded the win.
In game two, Atchison struck first, scoring a run in the top of the first, thanks to a hit that found an outfield gap.
The Atchison runner eventually scored, but Tonganoxie answered with an 11-run first. The second game ended in five innings as well, and Tonganoxie improved to 4-0 in the early season.
Laura Korb and Andrea Korb led the team in the first game, as both went 2-for-2. Andrea had a triple, three RBI and two walks. Laura nabbed a stolen base and registered a walk.
Katie Jeannin, Addie Heim and Michelle McWilliams all went 2-for-3.
Jeannin had a stolen base and an RBI, Heim had two runs, while McWilliams had a stolen base and 2 RBI.
The Chieftains finished with 13 runs on 11 hits.
Jeannin pitched a complete game for the win. She improved to 3-0 on the season.
In the second game, Tonganoxie had similar results, with Kim Newton leading the team in hitting.
Newton was 4-for-4 with 2 RBI. Jeannin was 2-for-2, and Andrea Korb was 2-for-3 with an RBI.
Tonganoxie's 15 runs came on 15 hits.
Atchison also committed five errors after making four miscues in the first game.
Jeannin started game two at pitcher, but Laura Samuels pitched most of the game, recording her first victory.
"I thought Laura Samuels pitched well the second game," Mall said.
The Chieftains now get into their conference schedule. Tonganoxie opened the Kaw Valley League schedule against Piper on Tuesday.
Results from that doubleheader, plus Thursday's game at Mill Valley will appear in next week's edition of The Mirror.
Game 1
Atchison 000 00 0 1 4
Tonganoxie 035 5x 13 12 1
Game 2
Atchison 100 10 2 3 5
Tonganoxie (11) 12 1x 15 15 1