What a relief
Rain brings welcome moisture to area's wheat crop
Tom Norman doesn't check his rain gauge if no rain falls.
"On those days, I just put zeroes in the book," he said. "There have been a lot of zeroes in the book this year."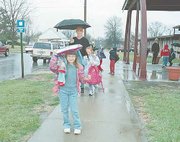 But early this week that changed.
Norman, who farms eight miles southeast of Tonganoxie and keeps rainfall statistics for the National Weather Service, got to measure rain.
It wasn't a lot but it did dampen the dirt.
By 7 a.m. Sunday, 0.05 of an inch of rain had fallen. Norman's gauge picked up another .23 inch by Monday morning, and an additional .22 by noon.
"It's a lot more than what we've had for a long time," Norman said.
Mary Knapp, climatologist for the state of Kansas, also kept track of this week's rain.
"It's nice, but it's not enough," Knapp said.
Tonganoxie rainfall statistics for the state are taken at a site five miles southeast of Tonganoxie where so far it has measured 2.22 inches of precipitation in January, 0.83 of an inch in February and 0.96 of an inch in March. That's about 4 inches during the first three months of the year.
In 1999, Tonganoxie received 37.3 inches of precipitation; in 2000, 31.03 inches; and in 2001, 45.07 inches. Average rainfall for Tonganoxie, according to statistics kept from 1961-1990, is 37.2 inches.
Even though 2001's rainfall total tops the average, Knapp said the timing of the rains hurt. During May and June, Tonganoxie received a total of 12.3 inches of rainfall. But it came down so fast, Knapp said, that much of it ran off.
Then, from September on, the drought hit, with only 8.84 inches falling through the end of the year.
Knapp said she's not banking on this week's rains to save the state's wheat crop in central and western Kansas. Hutchinson only had 0.20 inch of rainfall, while Garden City received a trace.
But the rains will help the wheat in the Tonganoxie area, she said.
"Anything we can get is going to help it," she said.
But more is needed.
"The question is, is this going to be a one-shot event, or is this something we can get every three to four days, get back on a normal rainfall pattern, and improve water in pastures and stock ponds," Knapp said. "It will help, it's at least something, but it's not enough."
More rain though, may be on the way.
"There's an outlook for another round on Thursday or Friday," Knapp said. "Hopefully this moisture will set up the system so that the next front that comes around can do a little bit more."