Tonganoxie landmark comes to the auction block
It has been more than a century since the first guests turned out the light and went to sleep in the Myers Hotel.
But for the last year, no lights have shone at the northeast corner of Fifth and Main, known since 1940 as the Almeda Hotel, and before that as the Myers Hotel.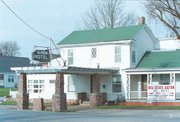 George Warren, at a public auction on April 27 and 28, will sell the contents and building, officially marking the end of what to many Americans was a symbol of everyday life a small town hotel sought out by travelers.
Carlene Myers' late husband, Larry Myers, lived part of his childhood in the hotel, which had previously been owned by his grandmother, Mollie Myers. Carlene Myers said she has been told that Mollie's restaurant was well-known.
"Mollie was a fabulous cook," Myers said. "People came by horse and buggy from the Kansas City area."
A 1908 Christmas dinner menu included roast turkey, roast goose and salmon. It is said that in 1924 when General J.J. "Blackjack" Pershing dined at the hotel, townspeople crowded outside the dining room windows, trying to catch a glimpse. And, long before he became president, Dwight D. Eisen-hower stopped in for lunch .
The same Tonganoxie hotel is said to have inspired Kansas playwright William Inge to pen, "Bus Stop," which in 1956 was made into a movie starring Marilyn Monroe.
The hotel's history spans a century. Mollie Myers in 1894 converted a 15-year-old two-story house into a hotel. In 1908 a dining room was added.
After her death in 1931, her son, Wilson and his wife, Frances, ran the hotel for three years. Mr. and Mrs. Vern Barber and their daughters, Wilma and Almeda, bought the hotel in 1940. In the early 1980s, the Barber's younger daughter, Almeda Tinberg and her husband, Richard, reopened it as a bed and breakfast. The bed and breakfast closed in 1996. Richard died in 1999, and a year ago, Almeda moved to a care center in Oskaloosa.
Since last June, Connie Hutchinson, a great-niece of Richard Tinberg, and family and friends, have been sifting through the old hotel's packed rooms, readying for a sale.
Hutchinson said it has been a lot of work to go through everything stored in the hotel's 17 rooms, but she said it has been interesting.
"I like the history of it," Hutchinson said. "Seeing all the stuff that she's kept there's a lot of history there."
Throughout the Almeda Hotel today, the past is evident beauty magazines from the 1940s, family pictures from a century ago, period clothes and a woman's fur coat, long unused. An overstuffed velvet couch and matching chair anchor one corner of the living room, on a pillar circled with coat hooks hangs a sign that reads: "Please ring the bell," a remnant of a Tonganoxie bed and breakfast.
Auctioneer George Warren, who grew up in Tonganoxie, said the hotel is a landmark.
"The thing about it is that it has been here for as long as I can remember," Warren said. "The buses used to stop there and there's a lot of nostalgia to the old building."
There has been a lot of interest in the property, he said.
"It's a good location a lot of people would like to see it open back up as a bed and breakfast," Warren said. "It's a big corner there, a lot of room, the building needs a little TLC, but what doesn't when you're that old."
An open house to show the real estate will be held from 3 p.m. to 5 p.m. Saturday. The property will be auctioned at 1 p.m. April 27.
"We will sell the smaller items on the first day and the furniture and probably the jewelry and miniature piano collection on the second day," Warren said. "There's some old stuff and there's stuff that's not so old from the present time to God only knows."