Chieftain bats quiet at midpoint
Tonganoxie coach John Lee wouldn't mind a midseason swing for his baseball team.
The Chieftains fell to Mill Valley 11-1 on Monday, a game that was postponed Thursday in the fourth inning because of lightning. THS trailed 6-1 when the game was postponed, but couldn't come back Monday.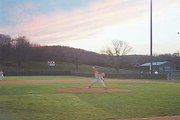 Tonganoxie, now 0-10, played league contender Santa Fe Trail on Tuesday. Most of the heavyweights on Tonganoxie's schedule were played in the first half of the season, but Lee is concerned about the remainder of the year.
"In the last few games, we digressed a little bit," Lee said. "Defensively we have our lapses.
"We play well a majority of the time, but people score big on us in one or two innings."
Game two against Basehor-Linwood on April 18 is one example. The Chieftains trailed 1-0 going into the fourth, but the Bobcats scored seven runs in that inning on its way to a 10-0 win.
Tonganoxie is also having problems at the plate, hitting .188 as a team (30-for-160).
"We are in a team slump," Lee said. "They're thinking about why they're not hitting instead of just hitting."
The Chieftains do have three bright spots, as seniors Pat Weyer and Zach Sanders are hitting at .350. Fellow senior David Saultz is batting .308.
A home date with Perry-Lecompton on April 25 could get the Chieftains out of their slump, but Lee just hopes the team can improve.
"The last eight games are by no means a cake walk," Lee said. "But the last eight games compared to the first 10, there's a major difference."
Game 1
Basehor-Linwood 214 003 6 16
Tonganoxie 100 000 0 1
Game 2
Basehor-Linwood 100 702 10
Tonganoxie 000 000 0