Despite hailstorm, spring prevails
If current predictions come true, area farmers could see their crops soaking up more rainfall than usual.
Mary Knapp, a climatologist with Kansas State University, said, "The latest long-range outlook for May, June and July is calling for it to be wetter than normal."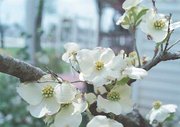 But that doesn't mean the rains will fall when needed.
"We could have all of the rain come in May and not have it in June or July and still have the three-month period being above average," Knapp said.
According to rainfall statistics kept by Tom Norman, who lives about six miles southeast of town, the Tonganoxie area received 2.33 inches of precipitation from Thursday through Sunday. This followed rains the week of April 7 that drenched the soil with 2.03 inches.
Norman, who has already planted his corn and soybeans, said he was concerned about a hail-packing thunderstorm that raged through the area early Friday morning. It turned out his crops were fine.
"I thought it was going to break the windows of the house the way it was hitting," Norman said. "But we didn't really have any damage it didn't last that long."
Bill Murr, who since 1965 has farmed near McLouth, said that apparently the hailstorm took a detour around his fields and it was high time.
"We didn't get hail," Murr said. "We were lucky. We got enough last year to last us for a while."
An early-June hailstorm last year, Murr said, destroyed 1,000 acres of corn, wheat and soybeans. Murr replanted the corn and beans to finish the season and, he said, the delayed start didn't hurt.
"The end results were pretty decent, really," Murr said.
So far this year, Murr said, things are looking good.
"This last rain that we got, two inches on the last go-around, just really makes things look a lot better."
And it's not just the crops that are benefiting.
"We gained a lot in our ponds and creeks and the grasses are growing up tall," Murr said. "We feel very fortunate to get what we've got and it puts us in the running for getting back to where we need to be."
Monday morning, Knapp said it appeared the area's cycle of drought had broken.
"The nice thing is that we have a chance of rain again on Tuesday and Friday and Saturday," Knapp said, "which puts us on basically a three-day time frame. It looks like that might continue for a while."
Unfortunately, Knapp said, only the eastern third of the state is benefiting from rain. The drought, she said, is particularly serious west of Hays.
"In the western third of the state, they got one-third of an inch or less," she said. "It's just enough to keep some of the wheat hanging on."