Annual fair under way this week
The Leavenworth County Fair will gear up as the fair parade kicks off at 6:30 p.m. today.
The parade's theme is "4-H and County Fairs: A Century-long Tradition." The parade will head west on Fourth Street, then north on Church Street and west on Third Street.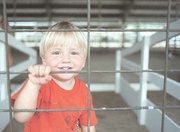 The fairgrounds will bustle until Saturday night, when the fair concludes.
Carnival rides and dances consume fair evenings.
The carnival begins at 6 p.m. each night through Saturday, while the Under the Big Top music series starts at 8 p.m. Thursday with a performance by Kathy Lynn. Straight Up will perform Friday.
Other traditions, such as a rodeo Thursday and Friday and a demolition derby Saturday also are on tap this year. A complete fair schedule appeared in last week's edition of The Mirror.