Tae kwon do grows in Tonganoxie
The New Town Square on U.S. Highway 24-40 in Tonganoxie houses a grab bag of businesses. Sunny Days Learning Center, Patricia's Portraits and One-hour Photo help supply the community with daycare, pictures and gifts.
Nestled in the building's southwest corner is a much different tenant the Tonganoxie Tae Kwon Do Academy.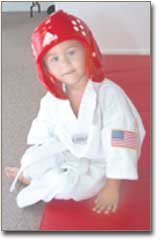 The school has roughly 30 students and classes available six days a week. Instructor Rex Hutton, who has practiced tae kwon do for nearly 30 years, said the sport can improve one's everyday life.
"I always tell my students tae kwon do can help you in each endeavor," Hutton said. "I want them to play their sports. I want them to go to school and excel in school."
Academy members range in age from 3 to the 40s. Students follow Hutton's command succinctly and reply with one word sir.
Hutton's history
While in the Marine Corps, in 1964 Hutton began studying karate. He continued through the Vietnam War, but years later, when Hutton was recovering from being electrocuted while working as a lineman, his physician recommended he study tae kwon do.
A Korean form of martial arts, tae kwon do was created many years ago as a way to defend against Japanese soldiers with a combination of various kicks and punches. tae kwon do is translated as "foot, hand and the way of, or art."
Hutton said Tae was his cup of tea.
"That fit me really well," he said. "The only two good things are my legs."
Despite his physical disability from the accident, Hutton didn't seem to be at a disadvantage. Competing in the middleweight division, he won five Kansas state titles, four Iowa state titles and four Missouri titles.
He also went to Olympic trials in 1980 in Tampa and in 1988 in Miami.
"Representing the state of Kansas was quite an honor," Hutton said.
A self-proclaimed eighth-degree black belt, Hutton has been recognized in certain tournaments and federations as a sixth-degree black belt. Tae kwon do participants may jump up a degree every three years. Hutton can become a master only when his master, Moon Yung Pak, dies.
Like many other tae kwon do fighters, Hutton eventually became involved in professional kickboxing. Overall, Hutton has been pleased with what he's accomplished after his accident.
"Nobody knows deep inside I wasn't going to be beat because I'm handicapped," Hutton said. "That wasn't gonna beat me."
In the academy
At one time, Hutton had seven tae kwon do schools in the Kansas City area. He learned from highly regarded tae kwon do and kickboxing competitors such as Chuck Wolfe, Bob Thurman, Mark Payne and LeRoy Green.
Hutton, though, eventually downsized and let some of his former students take over his schools.
In 1977, Hutton brought tae kwon do from urban Kansas City to more rural Tonganoxie. For several years he stopped teaching, but resumed the tae kwon do lessons a year ago after recovering from another accident incurred during his work as a lineman.
"I like to promote it (tae kwon do) in the rural areas," Hutton said. "Rural kids make great fighters."
State champions
The academy has fared well recently, most notably at state championships this spring. With just seven fighters, Tonganoxie won five categories for the title. More than 500 fighters participated in the event, and Hutton said it could be tough to repeat next year.
"Next year, I don't know," Hutton said. "You can only speak about this year."
During the past year, Hutton has seen a steady growth in his enrollment. He would like to see more participation from the high school level, but has been pleased with the members he has.
Some of those members include relatives. His wife, Rita, is a brown belt, while one daughter is a blue belt and another a green belt.
A grandson, Colton Pierce, who is 3, has ample energy when his grandfather calls on him for a drill in the academy. Another young grandson, Joe Beach, has excelled in many tournaments.
But even tae kwon do practice has its drawbacks:
"I hate push-ups," Joe said.
Hutton's goal is to get students to enjoy things they might not already like. He's still working on his grandson and the push-ups, but it's all part of Hutton's desire to teach discipline in his academy. He also pushes an anti-drug message.
"Everybody has a certain amount of talent," Hutton said. "They might not know it, but they've got a lot of talent.
"Somebody has to show them and believe in them. And then you do better when you have somebody coaching you telling you that you're somebody instead of the negative."